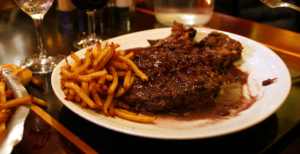 For 4 persons

2 1 lb rib steaks
4 glasses of Bordeaux
4 chopped shallots
1 glass of beef bouillon
2 oz of butter
1 tbs. of flour
- Chop shallots, place in sauce pan with wine, reduce by two-thirds, add stock, salt and pepper.
- Return to the boil and reduce over a low heat.
- Mix butter and flour in a bowl and, while the meat is cooking, take some of the sauce and mix with the floured butter, then return to the sauce pan.
- Thicken to a gentle boil.
The meat:
- Sear the entrecote steaks over a good braise of vine shoots, according to taste, and arrange on a serving platter.
- Coat with sauce.
- Serve with golden potatoes and a few porcini mushrooms.
If you don't have a bottle of Bordeaux handy a reliable Rhone will do.
Translated with www.DeepL.com/Translator (free version)