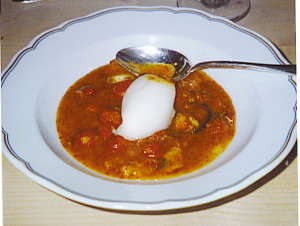 Soupe de Fraises
2 pts. Fresh strawberries
½ cup of sugar
Group 1: Fresh Herbs –2 Tablespoons each - finely chopped basil, coriander leaves, tarragon, and lemongrass
Group 2: Spices – ground vanilla, ginger, cinnamon, and cardamom
Group 3: Zests (sweetened) – lemon, grapefruit, ginger, orange and lime zests
(Sweetened with 1 qt. water and 2 cups of sugar)
Lemon juice
Gaseous spring water/mineral water
Lemon-basil Sorbet
Blend the strawberries in a blender with ½ cup of sugar. Set aside in the refrigerator. Mix each of the groups of spices or herbs separately. When ready to serve, mix a small amount of lemon juice and mineral water into the strawberries. Pour the strawberry mixture into individual bowls with broad rims. Place one scoop of lemon-basil sorbet in the middle of each bowl.
Soupe de Fraise - Strawberry Soup
Then, sprinkle small portions of each one of the groups of spices or herbs consecutively along the outside rim of the bowl. Now, how do I eat this, you ask? Once you lift your spoon, glide it across one of each of the groups, then into the strawberry soup itself, ending in the cooling sorbet in the center. You will find that every single bite is an extraordinary explosion of flavors not to be found anywhere else—unless, perhaps, it's in the backyard of your childhood.