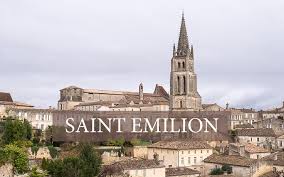 St. Emilion is an internationally-recognized fine Bordeaux wine made from Merlot and cabernet franc grapes. It is also a medieval village perched atop a hill on the Right Bank of the Garonne. A warren of cobblestone alleys and stairs surrounded by boutiques, small restaurants, wine shops and stores offering crystal decanters, corkscrews, crystal stemware–the paraphernalia of oeneophilia.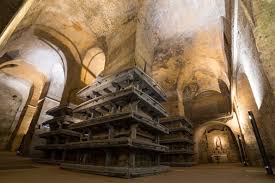 Our day began at the Tourist office where we were met and given an entertaining and informative tour beginning with the cloister just behind the Tourist office that housed Augustinian monks from the 12th to 15th centuries. But the most impressive and unusual element of this morning was the monolithic church. Constructed in the early 12th century, the church is partly subterranean; its three naves, with a small catacomb beneath, were dug into a rocky hillside. It also possesses a 53-meter-high bell-tower that creates a visible landmark for arriving wine "pilgrims."
By now we had worked up an appetite and our next stop was the nearby Chateau Ambe Tour Pourret where we were welcomed by the Chatelaine, Mme.Françoise Lannoye. We stepped into the kitchen where we sipped her Chateau Moulin de Clotte from the Cotes de Castillon and nibbled on sautéed zucchini while Beranger pan-fried magret de canard that was served with Chateau Ambe Tour Pourret Saint-Emilion.
This convivial afternoon continued with a local cheese and Chateau Lanbersac-Puisseguin Saint-Emilion from vines no younger than 35 years old.
Every Tuesday from 7PM-8:30PM the Chateau Ambe Tour offers a cooking class.These courses are built around a seasonal product (asparagus, salmon, macaroon, foie gras…). You will discover the tricks and tips of the chefs as well as a variety of recipes.
After a final glass of wine beneath the 100 year-old chestnut street in the garden, M pointed our Fiat towards Mirambeau and the dream that goes by the name of the Chateau de Mirambeau or as M named it, Sleeping Beauty's castle. Built over the vaulted foundations of an 11th century fortress the current neo-Gothic structure was constructed beginning in 1820.
General Manager Frédéric Boivent has a philosophy of hiring young , kind and enthusiastic employees that he can train à la Mirambeau. We were greeted by one of these young women who took possession of our luggage and car keys before seating us in an enormous salon for a peach ice tea that could put Snapple out of business.
After being escorted to our fit for a baron room and exploring the grounds we were anxiously awaiting our date with Chef Maxime Deschamp's regional cuisine featuring seafood from the Atlantic and fish from estuary of the Gironde.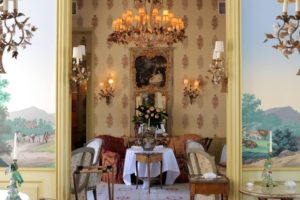 With our amuse-bouches we were served white and red versions of the preferred apéritif of the nearby Charente, pineau de charente from Chateau Beaulon.
After amuse-bouches M chose foie gras de canard du sud-ouest mi-fumé, chutney de fruits secs au pineau des Charentes « Château de Beaulon »Purée de dattes meedjoul while I had Chef Deschamps signature starter, Langoustines en spaghetti croustillants, Nougatine coulante d'ail et d'orange, fine salade. It was both tart and sweet and thoroughly refreshing. The Nez found the Sauvignon gris Bordeaux AB (agricultures biologique) très frais, bonne minéralité et ampleur en bouche.
For a main course M chose Mullet cooked on its skin with bottarga, Artichoke, candied tomato, argan marshmallow and for the gibier-lover that I am Demi-pigeonneau du Poitou en croûte marcona, Purée de maïs liée au beurre noisette, jus corsé des abattis.
Since we had been drinking and "eating" Chateau Beaulon all night it was only fitting that we make our way to the Cognathèque to taste their vintage 1975 cognac that was, in a word, sublime.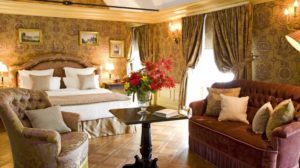 And now to sleep, perchance to dream. Candles lighted our room and bath where the de rigeur Relais & Chateaux collection of huge towels, commodious bathrobes and luxury hair and body products awaited.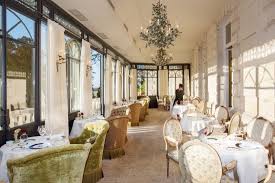 Breakfast was served on the terrace overlooking the lush garden before we concluded our Bordeaux adventure with a visit to the Chateau Beaulon where we tasted and bought the Pineau des Charentes that we had drunk last night and had a few more drops of the 250 euro per bottle cognac that we had tasted in the Cognathèque.
But there was more than cognac, the chateau boasts an arboretum featuring les Fontaines Bleus that is perfect prior to indulging in their superb spirits.
With these dishes we were served : Chateau Rozan-Gassies-2nd cru classée Margaux 2009 and Cotes de Blaye Chateau Roland la Garde 2005 (Malbec.)
My dessert was a soufflé chaud cassis, crème glacée à la violette-heavenly while M's Chocolat brut 1er cru de plantation « Maralumi » Michel Cluizel, Mousse chocolat lait, dacquoise noisette, crème glacée chocolat lait cognac « Château de Beaulon »brought smiles of delight.