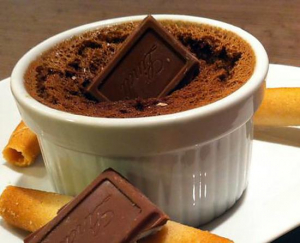 Pot de chocolat is an all-time favorite that can be pulled together quickly for everyday pleasure – this is especially good news for chocolate lovers ! There are several methods for making pots de chocolat – this one is a stovetop method which is easier than the other custard method using egg yolks and a « bain marie ». This recipe gives a flavor & texture that is just delicious…
Ingredients – for 8-10 people
Ingredients
2 teaspoons vanilla extract
½ teaspoon instant coffee powder, a few drops of coffee extract, or ½ an espresso
100g sugar (3,6 oz)
3 tablespoons cocoa powder (40g)
2 tablespoons corn starch (20g)
pinch of salt
3 egg yolks (60g)
113g heavy cream
567g milk, whole milk preferably
85g butter, cut in small pièces
113g dark chocolate, with 60-64% cocoa content
shaved almonds, quantity desired (for decorating the top)
Method
In a bowl, whisk together the sugar, cocoa powder, corn starch and salt.

Add the yolks and the cream, and whisk until full incorporation.



Pour in the milk until it is incorporated to above.

Place this in a pan & cook on the stovetop.

Cook over medium heat until you have bubbles, about 8-10 minutes.

Cook an additional 30 seconds after you reach the boil stage.
Remove from heat & add the butter & chocolate until completely melted, and then add some vanilla extract. Try to avoid clumps.

Pour into a big bowl for serving family style or into individual pots.

Film the surface with « cling film » to avoid forming a skin.

Refrigerate 3 hours before serving.