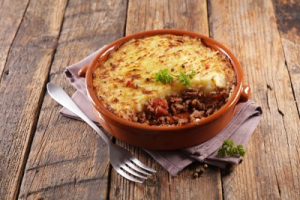 Nothing beats the regional dish Parmentier de canard, from southwestern France, when there is a winter chill in the air. It is rustic, delicious and warms up the heart and soul. In short, French comfort food! This hot casserole dish consists of two hearty layers: duck leg confit on the bottom and potato on top, typically a purée. The duck legs are first cooked "low and slow" in a vat of duck fat until tender and practically falling off the bone. It is then shredded by hand (much like pulled pork). It is easy to buy high quality duck confit in France which actually makes this fast to prepare. However, you can "confire" duck legs yourself if you have a couple of days and a reliable source for the right type of duck.
Serve with a simply dressed green salad dressed and a robust red wine, such as an AOC Pecharment or AOC Cahors. Enjoy!

Ingredients – for 6 people
Top Layer (potatoes)
2 kg potatoes
130g milk or half-and-half or heavy whipping cream (your choice!)
80g butter
40g grated parmesan - optional
Sat and white pepper
+
Bread crumbs (panko preferred), quantity needed to cover dish
Bottom layer (duck)
6 duck confit legs
1 chopped oignon
1 T duck fat or olive oil
8 garlic cloves, or quantity desired
1 small glass dry white wine
Thym, piment d'Espelette, fresh parsley, salt
Instructions

Start by making top layer: the mashed potato purée.

Wash, peel and cut potatoes in large chunks.

Place in cold water and bring to a boil.

Salt the water, and cook until soft, about 20 minutes.
Drain, put back in hot pot and cook over stove a couple of minutes to eliminate some moisture.

Use a masher or ricer to crush the potatoes.
Add butter, and parmesan and freshly ground white pepper.

Add milk – the amount needed to make a good purée consistency. Taste and adjust.

Reserve.

Prep duck.

If you need to remove excess duck fat from legs:

place them in a casserole pan or other sided recipient and warm in 150°C oven until fat melts off.

Keep the fat for cooking in this recipe and other recipes.

Let legs cool to touch.

Then, remove skin and shred the meat off the bones, collecting in a bowl.

Reserve.
Chop onions.

Reserve.
Peel and de-germ garlic.

Reserve.

Make bottom layer

Heat large Dutch oven with duck fat.

Add onions, thyme, piment d'Espelette and a little salt.

Cook onions on

low heat

around 10-15 minutes or until soft.

Press in the garlic at the end and cook just a minute or two.

Add shredded duck, cook until heated.
Deglaze with dry white wine and reduce until almost dry.
Add a little water if it becomes too dry.

Add freshly chopped parsley.

Taste and adjust flavors as needed.

Add more thym or herbes de Provence if needed.

Assemble.

Pre-heat oven to 180°C.

In an oven proof casserole dish, place the duck mixture on bottom.

Add the potato purée.

Sprinkle with bread crumbs. Bake uncovered for 15-25 minutes until it is bubbly and browned on top.

Cover if it starts to brown too fast before it is heated properly.
Let rest 10-15 minutes before serving with a dressed green salad.