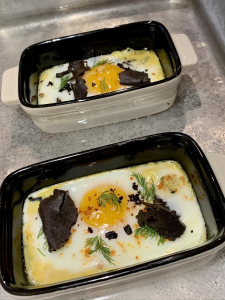 One of the things I love about French cuisine is how widely accepted it is to feature eggs on a menu outside of breakfast. Oeuf Cocotte Royal is as delicious an "entrée" (1st course) as it gets. The literal translation of oeuf cocotte is egg casserole. Individual ramekins are most often used as the casserole dish. Oeuf cocotte can also be considered a shirred egg or even coddled egg, as the British are known to call them.
At its simplest, this dish is made by putting a spoon of cream into a buttered ramekin, breaking an egg in it (while keeping the yolk whole!), seasoning, adding another spoon of cream, and cooking it in a water bath. It is usually served with "mouillettes" (plain toast sticks), or "petits soldats" as the Belgians say – or at least that's what Eric's family called them!
I like to jazz up the simple dish described above and make it "Royal" by incorporating foie gras, dried chanterelle mushrooms, and black truffle. These flavors together with the soft egg are just incredible. I don't dip the foie gras mouillettes into the egg, but rather, take a bite of it after a spoonful of oeuf cocotte - it is rich and abundantly flavorful! There are many recipes that add foie gras to the egg ramekin before it is baked, but I prefer to serve it on the side. The sauce gets an extra deep flavor from soaking the dried mushrooms and from good seasoning. If you want to avoid cream, it also works perfectly with a vegetable velouté that you might have on hand. You may need to play around with cooking times since every oven, water bath and ramekin is different! Enjoy!
Ingredients for 4 people
4 large or extra-large eggs, 60-70 grams each
130g bouillon, stock or milk (I used lamb stock because that's what I had)
100g crème épaisse or heavy whipping cream
Salt / pepper
8g dried mushrooms
2-4 walnuts, freshly cracked
20g cooked lardons bacon, chopped (optional)
Fresh green herbs
Nob of butter for buttering the ramekins
200g foie gras mi-cuit (or sub with cheese stick for vegetarian version)
4 slices of dark bread, toasted
Preparation
Butter molds and set aside.

Pre-heat oven to 155°C (convection).

Get water bath ready:

fill pan with hot water, enough to go up half the sides of your molds.

Put in oven, covered, to bring the water to temperature.
Make sauce:

weigh cream and stock in a pan.

Cook over medium heat on the stovetop until thickened but not too thick.

Season to taste with salt and pepper.

Add a splash of lemon juice if needed for brightness.
Immediately add dried mushrooms to the hot sauce pan.

Let infuse 5-10 minutes until mushrooms are soft and sauce has cooled.

Note:

before adding mushrooms, think about breaking or cutting them into bite-sized pieces.

This will make it easier for guests to eat with a spoon.
Add walnuts, pre-cooked bacon (if using), and chopped herbs to cooled sauce.

If sauce has become too thick, add back some milk to thin.
Crack 4 eggs into 4 individual recipients - for temporary holding only.

This will assure the eggs are fresh (sniff for any odd odors!), and avoids using any broken yolks.

If a yolk breaks, set aside and crack another egg!
Divide the mushrooms and sauce between 4 molds.

There should be about 45-50g of mushroom sauce per mold.

Pour one egg into each mold.

Season with Cayenne pepper. (Note: 50g of sauce will result in a somewhat soupy consistency after it is done, but I like it this way!)
Bake the eggs:

place each of the 4 ramekins or molds into the hot bath water.

Carefully move this to the oven.

Bake 11-14 minutes uncovered, depending on size of ramekin and temperature of water bath.

You know it's done when: whites are totally opaque and have mostly solidified and yolks are darker in color but still runny.

Prepare "mouillettes".

Toast bread.

Slice 4 slices of -foie gras (about 50g per slice).

Place foie gras onto cooled toast.

Slice this into thirds (if you like).

Season with fleur de sel, or Maldon salt and freshly cracked pepper.

Place 3 foie-gras toasts onto each plate.

Final seasoning & serving.

Using oven mitts, remove ramekins from hot water bath and set on a kitchen towel to absorb water before placing on plate.

Top with fresh herbs, fleur de sel and fresh black truffle (optional).