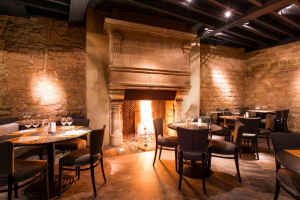 The first thing you see when you walk in are the original walls of a 14th century building featuring a 16th century fireplace from the Dordogne and Jean-Michel Milmotte's contemporary eye that modernizes the space without sacrificing its patrimony.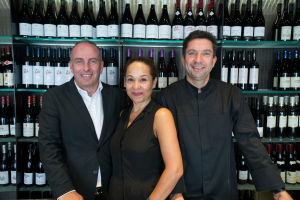 Atelier de Maitre Albert has been in the hands of Guy Savoy since 2003. Chef Emmanuel Monsallier at the right and maitre d' Laurent have been here since the inception which speaks volumes for the warmth and consistency that I've experienced at the other Guy Savoy restaurants, La Chiberta and Restaurant Guy Savoy at the Musée de la Monnaie.
The occasion was my birthday and M was with me to celebrate. Over the course of 3 hours Laurent gave us a class in excellent wines at affordable prices.
As is customary, as we were seated, he arrived with flutes from Louis de Sacy.
We started our meal with a chicken breast salad served with a white GRAVES from CHATEAU JOUVENTE that blew M away. Exceptional at 15 euros the bottle at your local marchand. As a total coincidence I had been introduced to this wine just last week at Le Mesturet by Benjamin GUTMANN, who with his family, runs the domaine.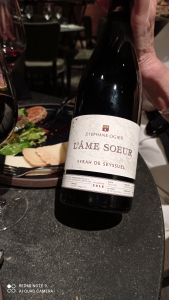 We agreed on the main course: cotes d'Agneau served with grilled fennel, redolent of oranges, purée maison and gnocchi. The wine parade continued with a Chateauneuf-du-Pape from MONT-REDON and when that was gone a 100% syrah from L'Ame Soeur.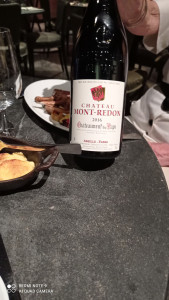 Dessert was Ossau Iraty, a cheese from the Pyrénnés, served with black cherry jam.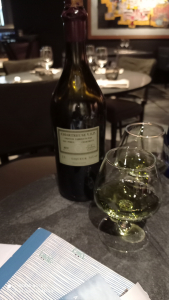 Having been in Calvados on Tuesday we were open to a surprise and wow? Chartreuse, but not that commercial stuff we are used to. This was aged like a fine calva and when we finished the green variety Laurent made a special 'cocktail' of the classic green and yellow varieties. Two cafés each were almost enough to help us find our way to the door.
1 rue Maitre Albert, 5eme