"Where else but Paris," Terrance asked as we sat on the terrace of a floating structure overlooking the Seine, across from the Grand Palais, just below the Pont des Invalides, sharing an 18€ plate of charcuterie, cheese, olives and bread and a 4€ glass of vin rouge ordinaire.
We were thinking of our hometown, San Francisco where such a lunch and such a view would have set us back four times as much as this one did. The terrace was of the newest museum (opened mid-July 2019) in this city of museums, Fluctuart. Open from noon to midnight, this glass and metal museum is dedicated to street art, apparently the only such museum in existence today. Up one short flight of stairs is the permanent collection. It is a small one, consisting of canvases by well known (to me, not to Terrance) graffiti / street artists like the anonymous English Banksy (best known for stencil art), Shepherd Fairey (best known for his HOPE poster for Obama), Invader (whose ceramic tile mosaics you have surely seen on your own wanderings around Paris, there are over 1000 of them) and Keith Haring, one of the earliest street artists who succumbed to AIDS in 1990 at the age of 32.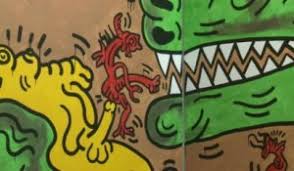 Across from this gallery is an amazingly well stocked book shop about and by street artists. A short flight of stairs below this level takes you to the area dedicated to temporary exhibitions.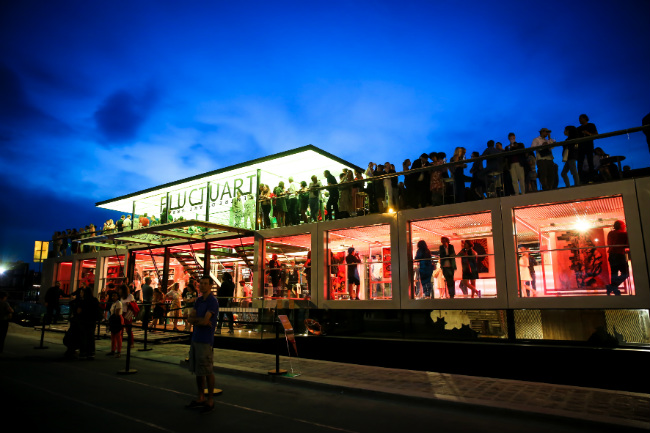 The opening exhibition by the American street artist SWOON (now over) made excellent use of the quirky space. One short flight above the entrance level is where Terrance and I enjoyed our repas. Keeping with the theme of street art, the food menu is posted on skateboards and the drinks menu on spray paint cans. Once you have enjoyed your meal and the view, do wander along the Seine toward the Pont Bar Hakim (which so many films have made famous, most recently one starring Tom Cruise).
There is a boardwalk of sorts along which to wander, with places to eat and places to sit. Altogether a purely Parisian experience not to be missed.