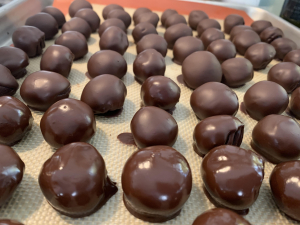 Almond Joy Truffles
'Sometimes you feel like a nut...sometimes you don't.....' Anybody remember this little jingle from way back when? When was that anyway? The 80s? The 90s? (Please don't say the 70s!) Regardless, I'm feeling a little nutty today and would like to share a recipe that we started serving at the holidays over a decade ago. These are Eric's favorite homemade chocolate – it's an obsession really (borderline addiction)! Consequently, we no longer limit them to the holidays alone, especially since they are easy to make. The original Almond Joy recipe has you make the coconut base, spread it in a 9x13 inch pan, cut them into small rectangle bars and then top those with a whole almond before coating with chocolate. I find it much easier and faster to simply chop the nuts, add them to the coconut base, form the balls and coat with chocolate. That's why I reclassified them as "truffles"! Also, I will only use unsweetened coconut because the sweetened-condensed milk used in the recipe provides enough sweetness (along with the powdered sugar). A touch of dark rum can further offset the sweetness if you are so inclined but this is totally optional. Finally, the ultimate coating and authentic technique requires "tempering" the chocolate which results in a nice crisp texture and glean. However, it is just fine without taking the extra effort to temper the chocolate – the taste certainly doesn't change and it gets you to the finish line more quickly!
Enjoy,
Diane
Ingredients
16 oz (454g) dried, flaked coconut, unsweetened (and chopped)
1 can (14 oz or 396g) of sweetened condensed milk
Up to 1/2 lb (227g) powdered sugar
Roasted Almonds, chopped (about 1 cup or quantity desired)
Rhum, quantity desired (optional)
8-10 oz. High quality dark chocolate, 70% cocoa content which is our preference (or milk chocolate if you prefer)
Process
Mix together in a bowl the dried coconut, nuts, sweetened & condensed milk, and powdered sugar. I add the powdered sugar a little at a time and stop when it tastes sweet enough.

Let rest in fridge for about 1 hour.

Form into small balls.

I prefer to make smaller balls in order to get a good chocolate-to-coconut ratio.

It does add a little more time to the process but it is worth it. Cover tray with film.
Chill 2 more hours or until good & hard.
Melt chocolate over a bain marie (double boiler) - See Notes below for tips on chocolate melting.

Using a fork, dip the coconut-almond balls into the chocolate, wiping off any excess chocolate with a second fork.

Place on parchment paper to let set. Don't refrigerate the chocolate while it's setting!! Bad idea!

It can cause white spots on your chocolate.

Let set before transferring to a fridge and then into a storage container.

Store in the fridge but bring almost to room temperature before serving.
Note: Melt chocolate only until just warmed and "dippable". Be careful not to overheat the chocolate or it can seize and become too thick to dip. Adding 1 tablespoon of coconut oil or a neutral oil can help get you out of the pinch but it's really best to just warm the chocolate until melted. Using a double broiler is recommended but remove from heat while dipping. The highest quality chocolate you can get your hands on will melt easier and better. Although using Nestlé chocolate chips can work, you will see a difference when working with a high quality chocolate if possible. From time to time, you may need to reheat the chocolate in the double boiler over very low heat. You may also need to melt more chocolate if you run out – 8 to 10 ounces is my best guess!
After you have finished dipping all of the balls, feel free to use up any remaining melted chocolate by dipping pretzels or making nut clusters. To make chocolate covered nut clusters, simply add cashew pieces, peanuts, or other nuts and spoon them onto a parchment paper. Ruffled potato chips are also to die for when dipped in chocolate!