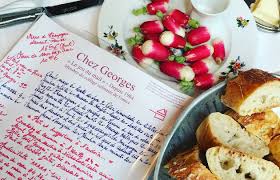 One senses that time has stood still when entering Chez Georges, a classic Paris bistro since 1964. Waitresses in black dresses with white aprons, crunchy radishes served with butter and salt as you are seated and handwritten menus. All of the classic dishes are served: marinated herring, paté de compagne, celéri remoulade and of course, entrecote, cote de boeuf, grilled sole, salmon in sorrel sauce to name but a few.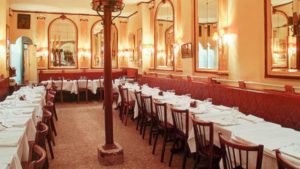 I was in the middle of showing Dan, Shannon and the adorable 11-year old Genevieve. Paris au Flaneur when hunger and our arrival in front of Chez Georges coincided. I peered in through the lace café curtains and knew we would be seated. At my left a mother and daughter from New York who scandalously failed to finish the large portion of hand-cut frites that accompanied her steak. And scattered a round the room were habituées like Patrick Frey, the CEO of Pierre Frey.
For the adorable one a bowl of the tiny green lentilles du Puy, for mom a huge lobster salad and for me and Dan an oven-roasted chunk of turbot.Prices stretch the limit of moderate but portions are generous and service was efficient and charming. A glass of chablis for Shannon and a bottle of Burgundy for the guys hit the spot.
Ste. Genevieve du chocolat had no resistance to the profiteroles and we happily helped.
Chez Georges • 1 rue de Mail • 75002• 01 42 60 07 11
Lunch & Dinner-Monday-Friday Reservations recommended
Closed Saturday & Sunday