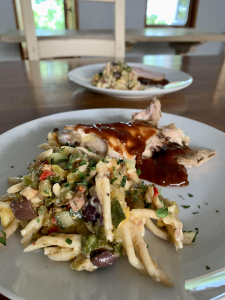 Pasta salad reminds me of summer probably because that's the only time we eat it!! There is always a spot for pasta salad at a barbeque gathering because it holds up well not only on a hot day, but also can be made in advance. What's not to love? (For those of us who don't avoid carbohydrates, that is.) But have you ever asked yourself what is the secret to making really great making pasta salad? Full of bursting flavor and freshness? Totally delicious that you can't stop eating it? First, make a great vinaigrette. I assume you already know how to do this. Second, use a decent shaped pasta that can absorb lots of liquids. Personally, I love the pasta shape called "trofiei" from Liguiri because of its thin, twisted shape. It's more delicate and reduces the ratio of pasta to veggies which I prefer. Finally, and perhaps this is the most important point: use your pasta, cooked al dente, immediately after it is drained and do not rinse it in cold water, as commonly done. Instead, transfer it straight to a bowl while it is hot and steamy, and add your vinaigrette right then and there. You will be amazed how well it absorbs great flavors this way! Adding vinaigrette to hot pasta will kick it up a notch, I promise. After that, toss in loads of organic, garden-picked vegetables to add freshness and full flavor. I encourage everyone to use what they have on hand to create their own versions. That's what I did here which is why there aren't many specific quantities. I just stop with each element at the point that I feel there is enough and not more than that. I refrain from throwing everything in just because it is there. We are always looking for a good balance of flavor and texture, quand même! Enjoy!
Ingredients – for 8-10 people
250g dried pasta
Delicious vinaigrette, quantity desired
1 red onion
¾ of a very, very large vine-ripe tomato (yellow if possible)
About 12 large, juicy Kalamata olives – pitted and roughly chopped
About 10 very small cornichons, chopped finely
1 whole small cucumber, cut into a small dice (no seeds)
Fresh herbs, quantity desired
High quality extra virgin olive oil, quantity desired
½ teaspoon ground cumin, or quantity desired
Salt and piment d'espelette, quantity desired
Pre-cooked zucchini and eggplant and red pepper, brunoise – about ½ to ¾ cup (or you can sub sweet corn off the cob)
Cooked bacon – quantity desired, I used probably 3 slices chopped
Crumbled feta cheese – would be a great addition if you have it!
Instructions:

Chop onion and cook in pan to get rid of the "raw onion" bite.

Of course, if you like raw onions, you may want to skip this step!

I, myself, am not a fan unless it is the mildest of onions.

Reserve.
Make a delicious vinaigrette if you don't have one on hand.
Cook pasta to al dente.

Be sure to salt the pasta water well as this helps flavour the pasta!

Drain water and transfer pasta to a metal bowl (I avoid using plastic with hot food…).

Immediately add the vinaigrette and coat the hot, steaming pasta.

Stir well.

Set aside while you prepare the remaining ingredients.
Add the slightly cooked onions, the cooked bacon bits, and all other raw ingredients.
Add a bit more vinaigrette to coat the added vegetables.

Season and adjust.

Best served at room temperature.
Store in the fridge and eat within a couple of days.
Can be made the day before, or the morning before serving.