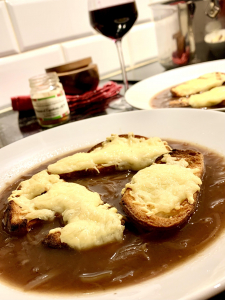 Nothing beats a classic French onion soup that is well made. Especially in winter. To succeed at it, you need the patience to deeply caramelize onions since that's where most of the flavor comes from! You must also have the gumption in the first place to slice a large quantity of onions. Purists will slice the onions by hand (in the vertical sense – from "pole to pole" in order to retain the best texture) but food processors can get the job done quickly. I still slice mine by hand! You also need the right stock pot for optimal caramelization. The best way to achieve "les sucs" from the onions (the brown caramelized bits on the bottom of the pan) is to use a thick bottomed metal pot (Mauviel or All-Clad style) or a Dutch oven (Staub or Le Creuset style).
I'm sorry to say that I don't have any secrets for avoiding teary eyes while slicing onions, except rinsing your knife under water from time to time does help. Perhaps the best advice is to hone your knife skills because the faster you slice, the faster it's done, and no more tears!!
To serve it "gratinée", top the soup bowl with toasted baguette slices covered in Gruyère cheese and place under a broiler until melted and lightly browned. Oven-resistant soup bowls are required for this technique. Alternatively, just melt cheese on toasted baguette slices (the oven works well for this), and add to soup just before serving. Traditionally, day old baguettes are used. I think it's worth the effort to dry or toast the baguette first (called "crouton") because it can absorb the soup properly, giving it body or nice texture. Putting an untoasted slice of baguette with melted cheese in the bowl just gets soggy without holding up – it isn't the same.
Additional flavor comes from deglazing the pan with Armagnac and wine. You can use Cognac instead and either white or red wine. Red wine will add a deeper color and flavor. Purists won't add any at all - the caramelization of the onions should add enough flavor to carry the soup. I myself use what is locally available, Armagnac and a full bodied Cahors Malbec red – they knock it out of the ball park!
Ingredients for 6 people
Soup
60g (about 4 tablespoons) butter
1,1 kilo (2,3 lb) yellow onions (weight without peel) – about 6 medium
50g (about ¼ cup) Armagnac – or Cognac
150g (about ¾ cup) dry red wine
30g (2 tablespoons) flour, toasted if desired (see note below)
1 liter (4 generous cups) chicken stock, preferably freshly prepared
1 liter (4 generous cups) beef stock
salt, white pepper, Cayenne pepper, 1 tablespoon herbes de Provence
Croutons
1 baguette, cut into about 1 cm (1/2 inch) slices
about ¾ cup of grated Gruyère or Swiss cheese, or quantity desired
Cut the onions:

Cut onions in half in the vertical sense & then cut into very thin slices ("root to root")…or cut them with a food processor if you like!

Start cooking the onion 15 minutes with a lid.

Melt butter in your soup pot.

Add onions and cover all the onions with butter.

Season with salt and herbes de Provence; stir well.

Cook on medium heat about 15 minutes with the lid but stir from time to time.

The lid helps speed up the cooking process and to release water from the onions.

Make sure they are cooking evenly.

Turn down the heat if starting to brown or burn.
Remove lid & finish cooking onions to caramelize them, about 30-40 minutes.

Over low to medium-low heat, cook onions until they are nicely caramelized.

Stir from time to time to make sure they don't burn on the bottom of the pot.

Add a bit more butter if needed (if the onions are too dry), or add a smidgeon of the Armagnac if the bottom is too dark and hot.

Onions should have darkened in color and become naturally sweet.

Taste and see!
Deglaze with Armagnac and then wine.

Add the Armagnac first; stir to incorporate, removing some brown bits along the way.

It should sizzle and evaporate almost immediately. Then add the wine & stir to incorporate.

Scrape off all remaining browned bits from bottom of pan. Turn up heat in order to cook off the wine until nearly all evaporated.

When you only see a little left and it is all bubbly, add the flour and stir. Cook about 2 minutes.

(Optional:

You can bake your flour ahead of time by preheating the oven to 180°C and placing the flour in a skillet that goes into the oven until it is lightly colored or at least not smelling of raw flour anymore.)
Finish cooking soup – about 30 minutes.

Add chicken and beef stocks.

Bring to soft boil & cook about 30 minutes until reduced (not quite by half), flavors have melded and until the thickness is "rich" (meaning not thin and not goopy – just slightly thickened nicely).
While soup is cooking, prepare your "croutons".

Cut a baguette into rounds or slices.

Toast until dried.

Top toast rounds with grated Gruyère cheese and melt (under broiler or in 180°C oven).

Reserve.

If you want to add a taste of garlic, rub your toast rounds with half a clove of garlic after the toasts are grilled and then top with the cheese & brown it.

Final seasoning & serve the soup.

Make sure the soup is well seasoned – take a final taste & adjust as required. Add more salt or piment d'Espelette if needed. Ladle soup into bowls and add croutons on top.

Serve extra croutons at the table.
Note : If finishing off the soup gratinée the traditional way, do not prepare your croutons ahead of time. Instead, ladle your soup into oven-proof "gratinée" bowls. Add stale baguette slices on top (this is traditionally how one would use up stale baguettes). Top the baguettes with grated Gruyère cheese. Place bowls under broiler until cheese is browned and melted. It can take 5 -15 minutes, depending on ovens & broiler power. Be careful when serving as the bowls get very hot in the broiling process!