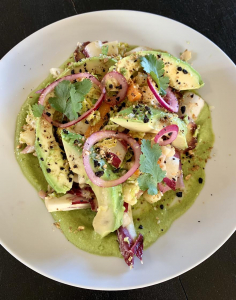 This healthy and hugely flavorful dish is perfect any time of the year, as either an entrée or lunch salad. The avocado and green chutney are the constants all year, but you can change out the other salad ingredients depending on seasonal availability. For early March, this is what I found at the local outdoor market: carrot, Treviso radicchio (like red endive but crunchier and milder in flavor), mini green cabbage heads, radish, and Pink Kiss apple. Since avocados are critical to this recipe, it's also critical that they be perfectly ripe!
The main recipe here is the green chutney which in itself is super versatile: serve it as a base to hold a salad when made thick (as used here), but also consider it for grilled meats, falafel and crudités, or smear it on a sandwich. The chutney has bright and vibrant flavors. It's "clean" and tangy, and this complements avocado perfectly. Feel free to increase the heat by adding more chili peppers and ginger – I've kept it on the mild side. It contains cumin and I recommend using seeds that you lightly toast yourself as this does make a difference (however, powder is always OK in a pinch!). The chutney is thickened with almonds (the secret ingredient!) which also emulsifies the water. I will warn you that this recipe is more of an art than a science. It's as simple as blending all the ingredients together, but after that, it's up to you to get the thickness and final seasoning balanced to your liking, and making it work in your blender.
For the salad, chop and toss to your heart's desire, using whatever vegetables you prefer and have on hand. Topping the salad with pickled red onions and black Himalayan salt adds a nice finishing touch if you have these available. Enjoy!
Ingredients for 2 people
Seasonal Salad
½ purple carrot, sliced very thinly
1 small orange baby carrot, sliced very thinly
1 very miniscule head of green cabbage, chopped finely
Radishes, sliced thinly
1 purple endive, sliced into chunks
1 apple, cut into a dice
Balsamic vinaigrette – 2 or 3 spoonfuls
Salt, pepper and a little hot sauce
Decoration: cilantro, ground nuts, pickled red onion, Himalayan black salt
1 avocado with EVOO, salt and pepper
Green herb chutney – makes only about 180g (about 1/3 cup)
70g total fresh coriander (young stems OK)
35g fresh mint leaves
20g almonds, lightly roasted (or almond powder)
Piece of fresh green chili, 3g
Piece of fresh ginger, 3g
1g cumin seeds, lightly roasted in a pan (no oil) until fragrant
Lemon or lime juice, to taste, about 2-3 tablespoons, freshly squeezed
Salt to taste
Water and olive oil, quantity desired for good consistency (about 50g total)
Preparation
Green herb chutney:

Place all ingredients in a good blender, except the wet ingredients (lemon juice, water, olive oil).

Add some water (maybe 1/8 cup?), and about 1T of olive oil – to get the machine churning.

I don't measure, I just add a little and go from there.

Add the lemon juice to taste.

You may need to keep adding water and lemon juice until it comes together.

I don't use much olive oil.

Stop when you have reached the desired consistency and flavor.

I use a Vitamix with a plunger to get the herbs into the blade.

It works exceedingly well to blend into a silky texture, but admit that it's not easy to remove all of the (thick) sauce from the blender once it's done.

Transfer to pot with film on the surface to prevent discoloration.



Salad:

combine all ingredients in a bowl without seasoning.

Reserve until needed.

Season with salt and pepper.

When ready to serve, toss salad ingredients with balsamic vinaigrette to coat and not more.

Avocado:

cut in half; remove pit; cut each half into 4 long slices.

Coat with lemon juice to prevent discoloration.

Drizzle with extra virgin olive oil;

season with piment d'Espelette and fleur de sel.
Assembly:

Smear 2-3 large spoonfuls of green chutney on each plate.

Top with seasonal salad that is already tossed with vinaigrette and tasting great!

(If not, work a little more to get it to great.).
Add the sliced and seasoned avocado on top.
Decorate:

with pickled red onion, fresh cilantro, nut powder, fleur de sel or other flaked salt.