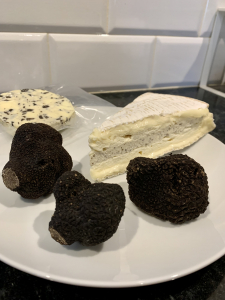 Fans of black truffles will absolutely love this simple recipe. It is utterly delicious but also expensive because of the black truffle. It is certainly a special treat to enjoy during the truffle season which starts around November and lasts until mid-February in the Périgord. It is best to use a Brie de Meaux made with non-pasteurized milk and it should not be too ripe and runny. In fact, it should be ripe but somewhat firm. As for the truffles, they should be nicely "parfumé", or scented. If not, well, then you won't find it as utterly delicious!
Ingredients
1/4 piece Brie de Meaux, around 400g
150g Mascarpone cheese
40g black truffle (whole or pieces)
Pepper
Steps
Mix the room temperature mascarpone cheese with the truffle pieces (or grate, or shave and chop from a fresh truffle).

Mix it really well until texture is supple and well mixed.

Cut brie in half, horizontally.

Open like a book.

Grate fresh pepper on both sides.
Spread the mascarpone-truffle cream on one brie half.

Cover with the other half of the brie.

Film the cheese.

Film it a 2nd time.
Store in refrigerator for 48 hours.
Remove brie from fridge 1 hour before serving to bring out best flavors.
Serve with a good, hearty pain de campagne, country French bread.
Enjoy!