Under the direction of Mayor Alain Juppé, Bordeaux has become much more than just fine wines. Buildings have been sandblasted à la Paris in the late 1950s by André Malraux to erase years of pollution and dirt, the
Quai des Marques
is a modern shopping center built on the old quais on the banks of la Garonne and a modern tramway awaits at La Gare Saint-Jean to whisk you off to your hotel for a mere 1.40 euros.
That tramway carried us from La Gare Saint-Jean through the newly refurbished city. Our destination was the recently renovated Hotel de Sèze,near the Grand Théatre and the Place Quinconces. This is a family affair, and young Cédric Janvier was on hand to greet us and see to our every need. His staff is young, enthusiastic, professional and welcoming. And as required of every new or remodeled hotel, there is a relaxing spa. Each room has Wi-Fi and a big screen TV/Computer-perfect for those of us of a certain age. Bedrooms are decorated in soothing tones with matching linen and American-sized bath towels.
Our first stop just around the corner was the Place des Quinconces. It consists of an esplanade gently sloping towards the Garonne, bordered on the north and south by magnificent trees. It is host to concerts and fairs, including an Autumn Antiques Fair for three weeks at the end of November.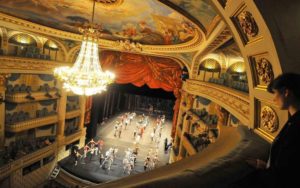 Just a few blocks away is la Place de la Comédie and the Grand Théatre, designed by Louis Victor in 1780. For a pre or post concert Champagne you will love the
Café Opéra, open in time for your first coffee of the day, lunch or dinner as well.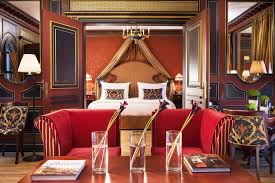 Directly across from the theatre is the Grand Hotel. Once a private residence it is now Bordeaux's most prestigious hotel. Locals love to stop in for an after
work apéritif or a leisurely tea in the orangerie decorated by Jacques Garcia.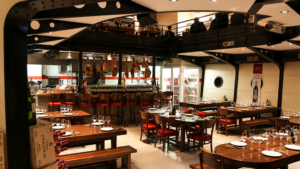 For souvenir hunters and collectors Sunday traditionally begins with a brocante at the Marché Saint-Michel, followed by the Marché at the Quai de Chartrons for dinner fixins. After a hard day of sight seeing we felt like beef and headed for the Brasserie Bordelais.
A peek over my shoulder and a look down at the grill convinced me to opt for the American-sized (450 gram) entrecote from Sebastien Manseau while M settled for the slightly smaller, but every bit as juicy, faux filet.Dessert was a delicately perfumed poire William sorbet laced with a nearly lethal dose of the potent potable. Not content to allow us to end our meal on that note, François filled snifters with a 1982 Bas-Armagnac Domaine de Busquet Darroze.
But the highlight of the evening was my new pal, two-year old Tom, who was dining with his family in the private room to my right. After a symphony of smiles, he ran towards me and jumped into my arms and planted a bisous on my cheek.