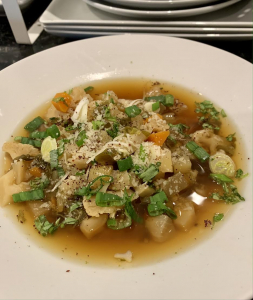 Here is a light yet satisfying vegetable soup for those times when your body needs a reset after holiday excesses! Use the broth for other soup or sauce bases. Change out the vegetables depending on the season. Feel free to improvise. For me this makes a hearty meal but it can also serve as an entrée when you decrease the portion served. The topping is totally optional but is what makes a simple vegetable soup more interesting. Don't worry if you don't have time to make your own broth – there are high quality vegetable stocks available these days. No judgements there! However, it is very simple and easily made if you have the patience to chop!
Ingrédients – 4 people
½ a large turnip, diced
2 large yellow and orange carrots (1 of each or whatever you have), diced
About 1/3 large head of cauliflower, broken down or cut into little pieces
About 4 small potatoes, diced
Half an onion, diced
About 1 ½ to 2 liters (6-8 cups) Asian broth (see recipe below)
3 handfuls of cleaned and stemmed spinach, chopped in chiffonade
2 teaspoons or quantity desired, reserved chopped ginger & lemon grass mix – see broth recipe below (optional)
1 ripe avocado, firm flesh, diced (optional)
Lime juice (from broth recipe below) and soy sauce, to taste
Toppings – Quantity desired of each
Parmesan cheese
Green onions (white and green parts), about 2 big pieces
Freshly chopped herbs (tarragon is a nice change)
Freshly ground pepper and fleur de sel
Asian Broth – 2 liters
2 lemongrass stalks, chopped finely
4 cm of fresh ginger, grated or chopped finely
3 very large green onions (white and green parts), chopped
24 mint leaves, sliced finely
Zest from 2 limes + juice from 3
½ a fat carrot, diced finely
Bouquet garni (parsley stems and dried kefir leaves* tied together in a leek leaf)
Freshly grated turmeric and galangal (optional; can substitute dried powder if desired)
*substitute with a regular bay leaf if kefir not available.
2 liters of water
Preparation – Broth
Combine the finely chopped ginger and lemon grass. Reserve a few teaspoons and put the rest in a stock pot. Add all other chopped ingredients and the bouquet garni to stock pot, then add the water. Freshly grate the turmeric and galangal into the pot (or add dried to taste). Bring to a boil and cover. Remove from the heat and let infuse 10-15 minutes, or to your liking. Filter out the solids and reserve the liquid broth. Add a tablespoon or two of soy sauce and some lime juice to taste. Season with salt and Cayenne to your liking, but be careful with the salt as soy sauce already adds saltiness.
Preparation - Soup
Dice or chop all root vegetables du jour:

carrots, turnip, cauliflower, potatoes.

Dice the onion.
In the soup pot, cook the onions on medium-low with olive oil until translucent and no color.

Add all chopped root vegetables, then immediately add enough stock.

Increase heat to medium/medium-high.

Season lightly with salt.

Bring to a light boil or even a gentle simmer, with a lid ajar.

If the vegetables you are using take significantly different lengths of time to cook, then you should stagger them accordingly.

Add the longest cooking vegetables first and progress over time with the shortest ones.

Add the spinach just before serving – it only takes about 3 minutes to wilt and it should hold its color this way.
While vegetables are cooking, prepare the final touches:

chop some fresh green onion and herbs.

Grate parmesan. Also, now is the time to dice the avocado.

Squeeze with lemon or lime juice to prevent discoloration.

Taste the soup for flavour and doneness of the vegetables.

Adjust as needed.

Add more lime juice or soy sauce; let cook longer if vegetables are not yet al dente.

It should take around 15-20 minutes but time varies depending on size of your dice!

Add some of the finely chopped reserved ginger-lemon grass to each bowl.

(Alternatively, you could just add this to the soup pot but it is more prominent in the bowl.).

Divide up the avocado amongst 4 bowls.

Ladle the soup on top.

Sprinkle with Parmesan cheese, green onion, fresh herbs, and season as desired with freshly grated pepper, etc.

Add some finely chopped red chilli pepper if you like a little spice or use sweet red pepper for a little more color and crunch.
Enjoy!