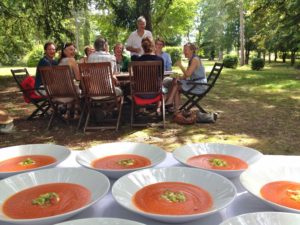 Join me for 7 days and 6 nights in the heart of Le Périgord. We will be welcomed by Diane & Eric Anthoniessen at their Chateau Ladausse for gastronomic meals (minimum 2 Michelin stars), elegant accommodations, swimming, and of course a river of local wine.
The new and expanded program will feature, as always, lodging and dining with our friends Eric and Diane Anthoniessen at the Chateau Ladausse, a day in Le Bugue with Martin WALKER including a festive lunch at his home.
APRIL 11-APRIL 17, APRIL 25-May 1
September 5-11, September 19-25, 2022
We will assemble at the market in Le Bugue (Saint-Denis in the books) where we will meet many of the characters who supply the victuals that figure so prominently in the Bruno books, by a tasting at Julien de Sauvignac, producer of Cuvée Bruno followed by lunch Chez Martin-a feast to be experienced to be believed.
An alternative day will feature visits to two of Martin's favorite wineries including a wine-fuelled lunch.
Indeed, while the characters in the Bruno novels have access to all the great wines of the world, they often choose to drink their local bottles, like one of Bruno's favorites, Château de Tiregand in Pécharmant, which also happens to be one of Mr. Walker's favorites. The proprietor, François-Xavier de Saint-Exupéry (a distant cousin of Antoine de Saint-Exupéry), served several older bottles. I was most struck by the 2005 Pécharmant. These reds are made from the same grapes as Bordeaux, the powerful neighbor on the coast, grown in similarly gravelly soils. It was earthy and lovely, intense and refreshing. At 12 years of age, the youthful fruitiness was just beginning to give way to complex minerality."We like to hunt, we like mushrooms, we like a glass of wine," Mr. Saint-Exupéry said, speaking to traditions that have sustained Pécharmant for centuries.Eric Asimov NY TImes
Itinerary
All Meals included
DAY 1 arrival by later train, transfer to Chateau Ladausse, relax, welcome dinner
DAY 2: Market Day in Le Bugue with Martin Walker, including wine tasting and lunch Chez Martin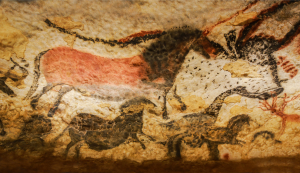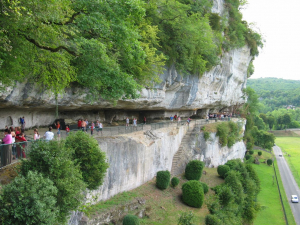 DAY 3 : Prehistoric Day-Guided tour of a prehistoric cave or a visit to a troglodyte village
DAY 4: Monflanquin market and cooking class with Diane at Chateau Ladausse
DAY 5: Visit to duck farm and all duck lunch
DAY 6: Cahors-market, cathedral and lunch. On the way back we will visit the ruins of Chateau Bonagil
Lavish au revoir dinner
DAY 7: Departure
A trip to heaven…oops the Périgord.

Once off the train in Agen, the relaxation begins—the toughest decisions are white or red wine; chardonnay or sauvignon blanc. Even with those decisions, Eric is there with expert guidance. Soon the discussion will be about shy vs. expressive wines.Camaraderie becomes the feature event…whether teasing Terrance, swapping tales about adventures or marveling about Diane's dinners. Louise and I connected with the rest of the group almost immediately and the laughter flowed freely.

The beauty of the countryside, the food, the conversation blend together to make the trip a little bit of heaven. The most captivating time is with Martin Walker, author, historian, and storyteller beyond all. As Martin recreated the places and times of the area, his stories became history.

Charly Rupp & Louise Walsh, DC
The trip to the Perigord with Terrance was like a dream come true. Eric,the owner of Chateau Ladusse met us at Agen station and we were off. The scenery took my breath away, all shades of green and Lilacs in bloom everywhere. I felt as if my 'Fairy Godmother ' had waved her magic wand and put me into one of the most beautiful rooms. my view of the grounds was spectacular. The wine and food presented by Eric and Diane was beyond Michelin stars. Then came the next highlight -- meeting the celebrated author Martin Walker. We were invited to his home for a grand lunch prepared by his wife. Martin's Bruno,chief of Police series has been most successful. Even the wine he produces carries the Bruno label. Needless to say,the wining and dining with exclusive company was over the top. By all means,this is an adventure not to be missed!Angela Bellante, Petaluma, CA
Our recent trip into the Perigord was fantastic. To begin with, Chateau Ladausse was a great place to stay: the rooms were everything one could hope for, Diane's meals were over the top, and Eric was a great guide. Lunch with Martin Walker after his tour around Le Buge was the hi light—he was a gracious host, and the lunch itself in his dining room was truly memorable, full of lively conversation, with food reflected all the wonderful things one hopes for in the region. Martin's wife Julia was equally interesting and charming, and a tremendous cook to boot. It was a treat to meet her, and Martin's friend Raymond as well—a real character. Our tour of Cahors, the lunch at Chateau Mercues, and the walk around Chateau Biron added even more interest to an altogether wonderful experience in Perigoridian history and gastronomy. Thanks for putting together a sojourn we won't soon forget.'Gil and Patsy Diekmann, Tiburon, CA
'This was our second trip and it was a delight. Chateau Ladausse is a wonderful place and Diane and Eric make the experience very special. Martin Walker and his wife Julia were also superb hosts. They welcomed us with delicious food, conversation, wine and hospitality! Altogether , a terrific time in Le Périgord.'Berry Stafford & Pat Holt
2022 RATES
Double occupancy 3370 Euro/person
Single Occupancy 3790 Euro/person