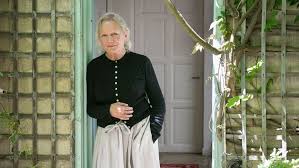 La Fab(ulous) agnès b.
Beverly Held, Ph.D. aka 'Dr. B.'
We are moving back (I mean forward) to the contemporary art scene this week, specifically to La Fab, Foundation agnès b. - a museum, a gallery, a bookstore. The museum is closed, of course, but the gallery is open, at least at the moment. Since last I wrote, things have gotten even dimmer in the City of Light. Curfew is still 6:00p.m. but now stores that are 10 000 square meters and larger are closed. This is not, my friends, a step in the right direction. And vaccines are nowhere to be found. So, as I say, at least for the moment, the galleries are open.
You know agnès b. n'est pas? (Figure 1) The e e cummings of clothes designers? In 1984, she opened the Galerie du Jour, (Figure 8) next to her clothing boutique, on rue du Jour, to showcase the work of artists she admired. Agnès says that it wasn't easy to start an art gallery in France because the French don't like people doing different things, it goes against their 'stay in your own lane' mentality. From the beginning, everything in the gallery was for sale. The idea was, still is, to showcase contemporary and historical works, original creations, multiples and editions. Agnès conceived of her gallery as a way to support young creators, present different art forms and attract new audiences. She follows her instincts and buys what she likes.
Click here to keep reading. https://www.museemusings.com/home/la-fabulous You will be taken to my website, where you will find all of my articles that originally appeared in the Paris Insider. My articles will always appear here first, on Tuesdays and at www.museemusings.com where you can also learn more about me, 'Dr. B.'