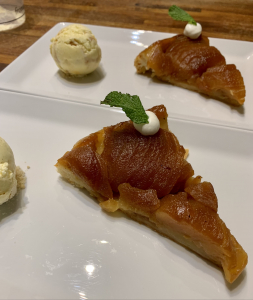 Anyone unfamiliar with Tarte Tatin can essentially think of it as a single crust upside-down apple pie that has been caramelized. It is prepared by making a caramel in a skillet, adding apples to the caramel, placing the crust on the apples, and baking it in the oven. Perhaps the most difficult part is turning the skillet upside down after it comes out of the oven! Caramel making can be tricky too, but once mastered it is really quite easy.
For the crust, you can use either puff pastry or a regular pastry dough. I, myself, have a very strong preference for puff pastry, so I suggest trying it. When using Golden Delicious or Royal Gala apples, the finished dessert can be a bit on the sweet side. However, serve it with a dollop of unpasteurized, crème épaisse crue fermière as done in Brittany, and you'll find the sweetness is balanced to delicious new heights! I have a preference for using Granny Smiths because these apples are tart to begin with which offsets the sweet caramel it is cooked in. In any case, choose a firm and crisp apple for best results. This can be made the morning of serving, or even a day before, but should be rewarmed before serving. A scoop of ice cream also nicely complements a warmed slice of tarte Tatin. Enjoy!
Equipment required:
A regular 25 cm / 10 inch skillet works well, or Tarte tatin pans are available from specialty stores.

I use skillets.

Non-stick or metal All-Clad style work equally well.

It's easier to see the caramelization step with a metal pan.

Your pan must be ovenproof.

Plastic-handled skillets must be avoided at all cost!
Ingredients for 6 people
About 5 apples, depending on size
(Royal Gala, Golden Delicious, Granny Smith, Pink Lady)
100g (scant half cup) granulated sugar
50g (about 1⁄4 cup) butter, cut into morsels
Juice of ½ lemon for caramel, and other half to squeeze on apples
Cinnamon & freshly ground nutmeg, to taste
Vanilla extract, optional & to taste
10-15g Armagnac (optional)
More sugar & butter as required
Approximately 260g (9-10 oz) puff pastry
Preparation
Pre-heat oven to 180°C (360°F).

Peel and core the apples.

Cut in half lengthwise.

Slice into about 6 pieces per apple (depends on apple size). Coat with a squeeze of lemon juice to prevent discoloration.
Weigh other ingredients. Make sure puff pastry or pastry dough is thawed/refrigerated & ready to use.

Make « dry caramel » in skillet on stovetop.

Add about half the sugar, wait for it to melt and add the rest, little by little until all sugar is fully melted to a medium-dark caramel color.

A little darker than medium is fine too!
Remove skillet from stove top (recommended for beginning caramel makers for better control), and add butter.

ATTENTION:

the butter will bubble vigorously.

The butter can be added a little at a time to minimize the risk of hot caramel projections.
Add lemon and spices.

Stir.

Note: Apple pie spice can be used instead.
Carefully add the apples to the pan with hot caramel.

ATTENTION : hot caramel ! Avoid burns when setting the apples in the scorching caramel – DO NOT allow your fingers to touch the hot caramel.

Place the round side down in the pan – so that you will see the pretty side when you eventually flip it over in the final step. Fit the apples tightly against each other starting on the outside of the pan and working in.

Add as many apples as possible as they will cook down – fill the nooks and crannies!

Let apples cook in skillet about 15 minutes (gently bubbling), until they are deflated slightly from the cooking. You want to see the caramel liquid bubbling underneath. If it becomes too dry looking, then you should some sprinkles of sugar & a small knob of butter. If it's too liquid, then cook a little longer on the stovetop. Once ready, remove skillet from the burner.

Prep dough. While apples are cooking, roll out dough to a thickness of about 1⁄4 inch (3-4 mm). Cut into the shape of your pan, but cut it a little bigger than your pan size in order to make an edge. Prick lightly with a fork. Return to fridge if needed. Otherwise, once apples are ready, place the dough on top of the apples, pressing & tucking the dough to create an edge. Make a vent hole in the middle.

Bake in oven. Place pan directly in oven and bake until crust is puffed, golden and you see the caramel bubbling around the pastry edges, about 15-25 minutes. CAUTION: the sugar can run over the edge of the skillet & onto the bottom of your oven, so it's best to place a baking sheet under the skillet to catch any run-over.

Demold. Let rest 1 minute (not longer) and then de-mold the tart by turning it upside down.

Place a tray pan or other flat surface on the skillet and quickly flip it over.

Tap pan against board to release tart.

All liquid should have been fully absorbed into the apples, but be prepared in case there is some excess liquid that runs off during the demolding process.

Cool on a cooling rack.

Never serve straight from oven; let cool down to warm.
Storage: Store in fridge if made well in advance, or for any leftovers.