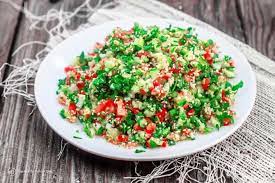 Tabbouleh can be prepared in a couple of different ways. One preparation uses lots of bulgur wheat and few herbs – and the other recipe, almost the complete opposite, uses little bulgur and loads of fresh herbs (parsley and mint). This recipe is for the heavy bulgur variety. I like a medium coarse grade of bulgur wheat because it gives more of a bite to the salad, but fine coarse is fine, too (!), if that's what you have in stock. It's a healthy, simple salad that I love especially in the summer. As with all cooking, it is important to taste and adjust seasonings to make it "pop". Try adding a little allspice if you have it – it changes the flavor nicely. Cucumber is not a traditional ingredient in tabbouleh, but I like including it for the freshness and crunch it gives. This salad is at its best when tossed just before serving.
Ingredients – for 8 people in a buffet
200g bulgur wheat, medium coarse
220g hot water
250g vine-ripe tomatoes
55g new onions or mild onions
¾ of an English cucumber
100g lemon juice
100g extra virgin olive oil
½ - 1 big bunch of fresh mint
1 big bunch of fresh parsley
Salt, and piment d'Espelette (or cayenne pepper), allspice
Bulgur wheat:

Rinse 4-5 times in large quantities of water until the cloudiness goes away.

Pour hot water (from a kettle for example) over bulgur and let rest about an hour or until absorbed.

It should taste "al dente" and have a bite to it.

If you have excess water in the bowl, drain it.

If using fine coarse bulgur, the water does not need to be boiled – tap water is fine.

Fluff with a fork.
Prepare vegetables.

Finely chop tomatoes and onions.

Remove seeds from cucumber and dice finely or grate.

Reserve each one.

Clean and dry the herbs. Make sure the herbs are really dried well.

Chop finely just before using.
Assemble.

Combine soaked bulgur with remaining ingredients.

Toss to mix well.

Taste and adjust all seasonings as need be.

Serve immediately.