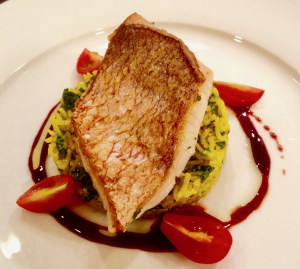 Chateau Ladausse Recipes
Monflanquin, France
Chef Diane ANTHONISSEN
This healthy dish is quick to prepare and delicious – making it ideal for everyday wellness or special occasions. Turmeric, rich in antioxidants, adds a beautiful yellow color and flavor to the rice. Feel free to use either fresh turmeric root or the dried powder. If red snapper is unavailable, any white fish such as sea bass or halibut will work beautifully. The skin, when crisped during cooking, is delicious to eat and provides omega-3 fatty acid. The Porto glaze is optional, but if you do make it, it`s important to use a good quality one.
Seared Red Snapper Filet, Turmeric and Spinach Basmati Rice, Porto glaze (Vegan)
SERVINGS: 4
Ingredients
4 boneless, scale less filets of red snapper, with skin (140g/5 oz each or 560g/20 oz total)
Rice
200g / 7 oz. basmati rice
200g / 7 oz. water
100g / 3.5 oz. coconut milk
1/2 inch fresh turmeric root or 1 ½ tsp ground turmeric powder
115g / 4 oz. baby spinach, chopped finely
60g / 1/3 cup / 2.1 oz. grated parmesan
1 tsp dry mustard
Freshly chopped herbs, to taste (parsley, chives, chervil)
Salt and white pepper to taste
Porto Glaze
1 cup aged Porto
1/2 cup sherry vinegar
1 ½ - 2 tablespoons sugar, or to taste
Decoration
4 cherry tomatoes, quartered
Extra virgin olive oil, quantity desired
Preparation

Porto Glaze
Bring Port wine to a boil in a medium pan.

Let simmer until the quantity is reduced by half.
Add sherry vinegar and simmer until the sauce is thickened and somewhat syrupy in texture, about 10 minutes.

Add sugar to taste.

It should be slightly sweet-slightly tart at the same time.

Remove from heat.

It continues to thicken slightly as it cools, so if becomes too thick, you`ll need to add back a little water and reheat gently to incorporate.

Caution: this may require patience to get consistency correct until you do it enough times!
Can be made days in advance.

It reheats well.
Rice
Rinse basmati rice under cold water 3 times or until water runs clear.
Weigh water + coconut milk in a medium pan with a lid.

Grate the turmeric root directly into the pan using a Microplane grater, or use powdered turmeric instead.

Bring to boil.

Add a good pinch of salt.

Add rice, stir.

Reduce heat to simmer, cover with a lid.

Simmer 10 minutes or until al dente.

Remove from heat and let rest 5 minutes, covered.
Add chopped spinach and stir.

Add dried mustard, chopped herbs and parmesan.

Stir.

Season with salt and piment d`Espelette or Cayenne pepper.

Taste and adjust seasonings accordingly.
Red Snapper
Season both sides of fish with salt and white pepper.
Heat nonstick pan very hot (until just smoking).

Add a splash of olive oil and a knob of butter.

Place fish filets in pan skin side down, pressing down lightly with a spatula to assure they don`t curl.

Cook about 5 minutes until the skin is crisped and lightly browned.

Turn filets over.

Turn off the heat and let rest in pan a few minutes while you begin to plate.
To Serve / To Plate
Place rice in center of plate.

Top with fish, skin side up.
Reheat glaze before using and drizzle around the rice.

Add a trace of olive oil if you like.
Add a few cherry tomato halves around the rice for decoration.
Bon appétit !