Rouen is famous for its cathedral boasting the tallest steeple in France, its art museum with the largest collection of Impressionist paintings after the Musée d'Orsay, the site of Jeanne d'Arcs burning at the stake and the birthplace of Gustave Flaubert.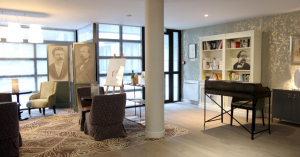 In celebration of Flaubert's bicentennial I and colleagues of the APE (association de la Presse Etrangère) were invited to Rouen. After a quick (1 hour and 15 minutes train ride we arrived at our destination and a short walk to the Hotel Litteraire Gustave Flaubert to soak up Flaubertian atmosphere. This small chain of hotels specializes in celebrating Proust, Rimbaud....
Tracing the footsteps of Flaubert we arrived at 'his' museum that also celebrates the work of his father, a well-known local physician. Next up was lunch at LES MARAICHERS. It was Saturday and the terrace, main dining room and second floor were filled. Most diners were feasting on the plat du jour, Boeuf Bourguignon, that was slightly salty from its sautéed lardons and perfect for the baskets of baguette that covered the table. The just released Beaujolais Nouveau was fruity and portends a good vintage when it matures.
It was a San Francisco like evening with fog and mist but it didn't interfere with a lively theatrical performance inspired by Flaubert that filled the Parc André Maurois.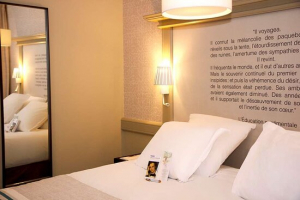 I woke up on Sunday morning after restful evening in a big, comfy bed over which hung a Flaubert quote. Downstairs there was coffee and a bountiful buffet.
We were picked up in a mini-van and taken to Lyons la Foret where both Jean RENOIR and Claude CHABROL filmed Flaubert's masterpiece, MADAME BOVARY. This hamlet of 800 souls features a classic medieval market square and colombage architecture highlighted by Ravel's house.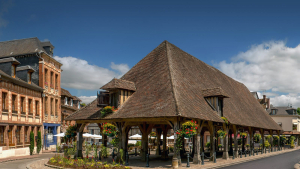 After an escorted walk around this tiny 'town' we arrived at the 4 star Hotel Licorne where we greeted by Sylvain our Italian-speaking Maitre d' and sommelier, prior to a 1 star Michelin meal prepared by Chef Christophe Poirier.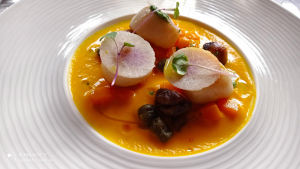 Sylvain started us off with an exceptional Chardonnay from the Loire-Les Terres d'Ocre Tessalier 2020 a fragrant partner to coquilles Saint-Jacques in a pumpkin veloute with chestnuts and capers for tang.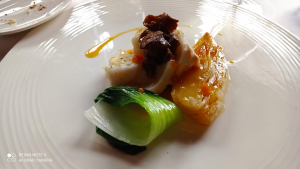 The main course was cabillaud with endive braised in orange vinaigrette and topped with mushrooms. The wine was so good that we didn't bother to switch.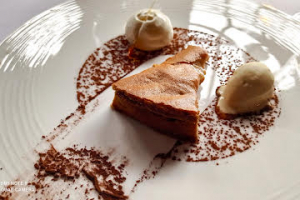 The finale for this meal and our visit was une Tartine fine Sable au chocolate noir and baby scoop of ice cream made with Madagascar vanilla.
I'll be back on my next trip to region.