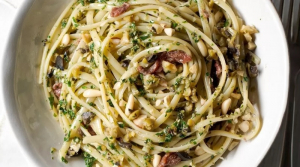 Cetara is a tiny fishing town on the Amalfi Coast, home to many artisanal fish preserving companies, and home of a salty umami-filled seasoning liquid called colatura di alici.
Most likely the descendant of the ancient Roman condiment, colatura is made by layering raw anchovies with a near equal amount of salt into a large container, topping it with a heavy weight to press down. This way, it ferments, gradually creating the liquid called colatura, which can then be emptied using a spigot at the bottom of the container. To visit a colatura kitchen is fascinating and smelly; the boats bring their fish nearly right to the door of the little workshops/factories, which then salt them, beginning their progress into fish sauce. The places of production, with such huge amounts of fermenting fish, smells exactly as you imagine it does.
Yet, as smelly as it is, colatura is delicious--subtley but not overwhelmingly fishy. You know what its like with anchovies: cook them with meat, or pasta or fish, and they disappear into a savory haze--with the final result tasting not of fish or anchovies, but of something incredibly savory that enhances the rest of the dish.
Spaghetti alla Cetarese is a delectable Neapolitan speciality; and while I am calling the anchovy mixture a pesto, it is not a smooth green sauce, but a hand-chopped near-relish, flecks of herbs bound with the chopped anchovy, fish sauce and olive oil, capers and garlic. And its so delicious, it somehow side-steps the objections of people who don't like anchovies (or capers): its just so appealing. Hand chopping is best; Neapolitans do a lot of hand chopping for a textured not pureed sauce, the ingredients married being all chopped together.
1 oz pinenuts
1 2 oz (in total, including the oil) tin anchovies in olive oil, plus their oil
1 big fat clove of garlic, or 2 smaller ones
1/2 bunch parsley or 1 smallish bunch
1/2 bunch basil, or 1 smallish bunch
1 tablespoon capers (in brine is fine, or salted and drained; whichever you prefer)
1/2 teaspoon colaratura di alici of Cetara ( when I can't find colatura, I use southeast Asian fish sauce)
2-3 tablespoons extra virgin olive oil
1 lb spaghetti
Using a large knife, on a cutting board, chop the pinenuts, then add the anchovies and chop them together; you might need to wash the handle of the knife so that your hand doesn't slip as you continue to chop. Add the garlic, chop it in, then the parsley, chop it in, then the basil, and the capers, chop it all in until you reach a chunky thick mixture. Place in a bowl.
Stir in the colatura and olive oil, cover and refrigerate until ready to serve.
Cook the spaghetti in boiling salted water until not quite al dente, then drain, reserving about a cup of the cooking water. Into a heavy frying pan place about half the pesto, then the pasta, heat them through a minute or two, then add about half the water, and cook together, tossing. You may need to add more water, you may not. See how it goes, then the rest of the pesto, and serve right away with a little extra olive oil drizzled over it all.