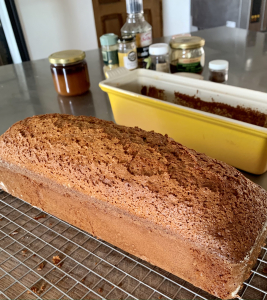 Pain d'épices is a quick bread that is leavened with baking soda as opposed to yeast which is used in a traditional bread. It is very quick to make, not only when it comes mixing the ingredients together but also in terms of time because there is no need to wait for the "bread" to rise like you do when making a yeasted bread. The baking soda does the job while it bakes in the oven.
For me, this is not a "bread", much like I don't consider banana bread a bread either. It is more cake like in that way. Regardless if you call it a bread or a cake, I think we might agree on how versatile French spiced bread can be! Because it is not overly sweet, it can be used in both savory and sweet menus. It is especially good when sliced very thinly and toasted and then topped with a slice of duck foie gras "mi-cuit". This is a classic pairing during the year-end holidays for which this "bread" is most known in France. I don't relegate this to the holidays only as I find it to be a nice change to serve at the cheese course (try it with Roquefort, but any creamy cheese can be delicious). It is also a quick breakfast, toasted and smeared with labneh or cream cheese. And it works well as a "goûter", the 4pm snack, just on its own. I love that it is not overly sweet tasting.
A couple of comments about ingredients: rye flour gives a really nice authentic flavor, but using all white flour is fine, too. In my recipe, I go with 50:50 with cake flour and rye flour. Honey is probably the most important ingredient and I urge you to use artisanal, locally produced honey. Using a honey from an apiculteur that has earned a "medaille d'or" will reward you with great flavor, trust me! As for the spices, this recipe provides my recommended quantities but you should only add the spices to taste at the end of the batter mixing. The spices tend to get more intense with baking and with time. Enjoy!
Ingredients for 1 loaf pan (29cm long x 8cm wide x 6cm tall)
Wet Ingredients:
200g eggs (3-4 eggs)
60g brown sugar (Cassonade)
150g whole milk
300g liquid honey (miel de sapin or other stong woodsy flavored liquid honey)
Grated zest from 1 orange and 1 lemon
Vanilla extract, quantity desired
Dry Ingredients :
150g rye flour (I used T-130)
150g cake flour (I uses T45), but regular all-purpose is fine, too
20g baking powder
3g ground cinnamon
1,5g ground nutmeg
1,5g ground anis
(optional other ground spices you can try: ginger, coriander, mace, cloves)
Preparation
Butter & flour mold and set aside.

Pre-heat oven to 180°C (convection).

You can use cooking spray instead of butter, if you prefer, with the flour.
Mix wet ingredients:

weigh eggs and brown sugar in a large bowl and whisk together.

Weigh in milk & whisk.

Weigh in honey.

It will be very thick and difficult.

If you let it sit, whisking from time to time, the honey will dissolve and you will have a liquid result.

Grate the lemon and orange peels directly into the bowl.

Add some vanilla essence.

Set aside. (Note: if your honey is solid, try warming the milk and adding it until it dissolves.

Let cool before using.

Better and easier to use a liquid honey!)
Mix dry ingredients.

Weigh the 2 flours along with baking powder into a medium bowl.

Either whisk à la Martha Stewart to get rid of any lumps in the flour, or pass it through a sifter.

The rye flour will have many solids that might not pass through the sifter.

I add this back to the sifted flour so as not to lose any of the flavor and texture it gives.
Weigh spices and set aside.
Mix the wet & dry ingredients.

I add the wet to the dry and start mixing from the center, taking more and more dry ingredients along the way in order to avoid lumps.

(Note:

You can also add the wet to the dry by making a well in the bowl in which to pour the liquid, and taking the dry ingredients a little at a time until blended.)

Either way, you should have a smooth batter that is a dark brown color.

Add spices.

Taste and add enough to your liking. Place in the oven.
Reduce oven to 150°C and bake 50 minutes.

This works well for my mold.

Test for doneness by inserting a knife in the bread – if it comes out dry, then if's fine.

If done, place loaf pan on a cooling rack and let cool 15-20 minutes or so.

Run knife around edges and flip over to release. Keep at it if it doesn't release the first time!!

Turn back over to completely cool on a cooling rack.

Store in hermetically sealed Tupperware for several days.

Store in freezer for a month or so, wrapped in freezer paper.