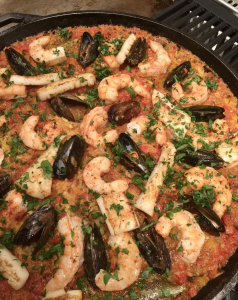 This main course can be served any time of the year, but it certainly brings back memories of warm summer nights, dining al fresco, in Spain. I first learned how to make paella from my sister-in-law Dominique who learned it from locals at their property in Cullera, south of Valencia. She has one of those massive paella pans, fed by a gas ring burner, that can feed a large crew! For the home kitchen, you can use a small paella pan, but a cast iron pan works ideally too, as does a regular skillet. A perfectly cooked paella will have all seafood ingredients cooked properly and the rice should be tender on top while the bottom of the pan crisps up slightly. Getting the crispiness factor on the bottom can be the biggest challenge because it can turn from crispy to burnt quickly if your attention is diverted. Therefore I recommend to serve it without crispiness if need be, for example if you don't have the patience, or if your pan just doesn't do it well. It will still be a treat! This is a fun dish to bring to the table and to let everyone serve themselves. This is how it's normally done, pre-COVID. Finally, there is a special rice used in paella but a short grain rice will do as a fine substitute.
Ingrédients – 6 people
4 tablespoons EVOO (olive oil)
1 sweet onion, peeled and chopped
1 big red pepper, diced
1 big yellow pepper, diced
3-4 cloves of garlic, peeled and chopped/pressed
Thyme, rosemary, bay leaf
Salt & pepper
225g chorizo
1 tsp smoked paprika – or quantity desired (QD)
400g spanish rice or ou arborio
Sherry or dry white, quantity desired
½ tsp safran
4 big tomatoes
500g mussels or clams (or QD)
300g à 500g crevettes, about environ 12 big (whole or without the heads)
100g-200g squid, in rounds (optional)
Flat leaf Italian parsley, QD
1 lemon, cut into wedges to garnish
About 1 liter (4 cups) chicken or fish stock – or quantity required (better to have too much than too little!)
Preparation – Mise en Place
Chop onions.
Dice peppers.

Peel garlic.

Peel and cut the Spanish chorizo in rounds.

If using Mexican chorizo, remove casing.
Tomatoes: remove the stem; cut in half.

Grate the tomato using the big size of the grater (skin side against the grater), until you arrive at the skin.

Throw out the skin.

Reserve the pulp and juice.

Remove shrimp heads and the shell (or leave on if in Europe!!); remove black vein.

Put into bowl and season with paprika, salt/pepper.

Stir to mix & reserve in fridge.

Scrap the outside of the mussels, removing any algae or other sea souvenirs!
Clean the parsley, using only the leaves ; dry and then chop finely.
Boil the stock with the safran.

(Add a little powder turmeric if you like!)
Preparation of the Paella
Heat paella pan (or other suitable pan) on medium high, about 2 minutes. Add the chorizo and cook until crumbled if using Mexican chorizo (or until golden and some fat has rendered if using Spanish cured chorizo, about 2-3 minutes).

Add a bit of oil if needed.

Reduce heat to medium.

Add onions & peppers along with the thyme, rosemary and bay leaf.

Stir and let mixture cook, stirring from time to time, until softened.

Press the garlic into pan. Add paprika – cook till you smell the scents, about 45 sec.
Deglaze the pan with Sherry or wine.

Reduce until almost dry.

Add the tomato pulp and juice.

Cook until the color darkens a little, scraping the sides and bottom of the pan to remove any brown bits, about 3 minutes.

Add the rice and 1 tsp salt.

Stir until all rice is glistening and coated well.

Increase the stove to medium-high/high.

Add the pre-heated stock until it is about 1 cm above the level of the rice, and stir to combine.

Arrange the rice in an equal layer.

No longer stir the rice, starting at this point.

Lower the temperature to a simmer and simmer around 12 minutes. The rice should be nearly al dente.
Arrange the shrimp and mussels so that they are a little submerged in the rice.

Either cover with foil and leave on stovetop, or put in 200°C pre-heated oven, for about 5-10 minutes until the shrimp are a rose color and the mussels open.

Remove any unopened mussels & discard.

Let rest 5 minutes, covered with foil.

While the pan is resting, cook the squid.

In a pan heated on high, add a little oil and then sauté just a minute or so.

Season with salt and smoked paprika.

Squeeze some lemon and finish with fleur de sel.

Add the squid to the paella pan that has rested.

Sprinkle with parsley. Serve with lemon wedges – either in the pan or at the table.
To Serve:
Place the paella pan in the middle of the table. Press a little lemon juice all over. You could also simply decorate the pan with lemon wedges all around. Each person can serve themselves.
Note : You can also add the squid to the paella pan if you know how long it takes to cook. Cooking time varies depending on if it is baby squid or not, and if it cut into rings or squares. Squid doesn't take long to cook and can become rubbery if overcooked. Cooking in a side pan should guarantee a perfectly cooked squid.