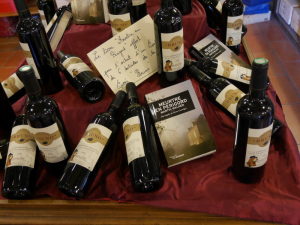 While spending the last month on a book tour in Germany, Austria and Switzerland to promote a new novel, I was delighted to be offered Bergerac wines at several of the bookstores, cinemas and town halls where German-speaking readers like to gather to hear authors read their works aloud.
Delighted and also proud since I try hard to promote our excellent local Bergerac wines wherever I go. The effort seems to be paying off, in Germany and in the United States, where the Bruno fan club has started importing Cuvee Bruno, Chateau de Tiregand and other wines that I celebrate in my novels.
Some of this tiny export boom had been expected, since for the last few years a German wine seller, Hartmut Theuerkauf, has become a friend on his annual visits when I take him around my favorite vineyards. He tastes the wines I recommend, buys by the carton and ships back hundreds of bottles at a time to his warehouse near Bremen. He then delivers to customers all over Germany.
So I was not surprised to see Hartmut smiling genially behind the bar in a civic cultural centre in Achim, selling Cuvee Bruno, Chateau de Tiregand, Chateau Briand, Chateau Jauberte, Chateau des Eyssards, Chateau Puy Servain and Chateau Belingard by the glass and by the bottle. This has triggered a new marketing trick. I don't just sign my books at these readings; I also sign bottles of the Cuvee Bruno I make with Julien Montfort.
In Switzerland, I came across bottles of Chateau Monestier La Tour, which was not a great surprise since the owner, Karl-Friedrich Scheufele, runs the Chopard watch and jewellery company, and he and his wife have become friends. He also owns the Caveau de Bacchus selling fine wines in Geneva and Gstaad. He has transformed his chateau, in Monestier, into fully bio-dynamic wines and they are really excellent. The Bergerac could not hope for a better ambassador.
I also came across a bottle of Pécharmant from Chateau Corbiac at another reading, along with bottles from Chateau Moulin Caresse, ChateauFeely and Chateau de la Jaubertie. They were being offered by a bookseller who had started taking his annual holiday with his wife in the Périgord and found that they could read my columns in The Bugle online, and began visiting the vineyards I had recommended.
But then in the small town of Altenach, which Germans tell you is the metal wire capital of the world, the former mayor invited me home for a drink and uncorked a bottle of a white wine from Chateau Les Hauts de Caillevel called Atypique. I knew the place, a lovely terroir on the plateau near Pomport, with land that runs down the south-facing slope to the valley of the small river, the Gardonette. When I first visited it and tasted the wines some years ago, it was run by a splendid woman, Sylvie Chevallier, and her husband. But he was not well and they sold the place before Sylvia embarked on a new career as the Dordogne Department's vice-president for tourism. I still have a few bottles of their excellent wines in my cellar. But this new wine, Atypique, was remarkable. It had all the freshness and gaiety that one expects from a Bergerac Sec, a dry white wine, but there was something more to it. I have a private way of tasting white wines along the range that goes from taut to relaxed. Most Bergerac Secs tend to the taut side, while white Burgundies tend to the relaxed. This Atypique was plumb in the middle, and yet with something else that reminded me of another splendid wine, the Chenin from Chateau Briand. At that point I realised that this was a wine made of Sauvgnon blanc and Sauvgnon gris with some Chenin working its own subtle but luxurious magic alongside. So I began doing some research in my hotel rooms - a different one every night on a book tour, with each new bathroom festooned with drying socks, shirt and underwear. (I usually arrive late at each new hotel and leave early so there is never time to use the hotel laundry service.) And I learned that Atypique had scored a very impressive 91 points out of a hundred from the Meilleurs Vins de France.
I am therefore counting the days until I can return to the Perigord, head for this vineyard and taste their wines, since the new owners are clearly gifted and know what they are doing. Further research tells me they are a young couple, Charlotte and Pierre-Etienne, with three young children, and that Pierre-Etienne used to be a logistics manager. Increasingly Green in his beliefs, he retrained as a winemaker, and bought the vineyard which Sylvie and her husband had converted to Agriculture Biologique back in 2010. The new owners have taken this further, planting fruit trees and wildflowers to increase the bio-diversity of their terroir. Still, while I can through the internet find out that they do indeed use 20 percent Chenin in the wine, and that they sell it in cartons of six bottles for 78 euros, there is no substitute for visiting the vineyard and tasting the rest of their wines. But that is the challenge: so many vineyards, so little time.