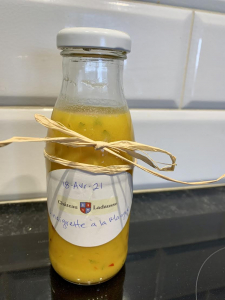 Like many people, I love tropical fruits such as mango or passion fruit and happily integrate them into menus. I like using mango in desserts but also find it interesting in savory recipes, such as a vinaigrette. This mango vinaigrette is versatile enough to dress a salad nicely, but it also goes well with chicken, fish and shellfish, or in "carotte râpé", or added to guacamole. When using fresh mango, make sure it is perfectly ripe otherwise this recipe doesn't work. A high quality purchased purée is another option that makes this even faster and easier to prepare anytime! My advice on using mango in a savory way: you must find the right balance with acidity and spiciness so that it doesn't come across as sweet. I want to taste the mango without it being "only" mango sweetness, if you see my point. You may need to add some more chopped red onion, or vinegar, or ginger, etc to get the blend just right. I love the cilantro with it, but for those who are not fans, it's still good without! Makes a nice little gift for your culinary-minded friends, in case you're looking for an idea.
Ingredients – for 4 to 6 portions (makes about ¾ cup or 200g or 7 oz.)
70g (5 tablespoons) mango purée
70g (5½ tablespoons) extra virgin olive oil
17g juice of half a lime + zest of half the lime
10g (1 tablespoon) finely chopped red onion
12g (1 tablespoon) apple cider vinegar (or other light colored vinegar)
2g (1 teaspoon) dry mustard
3 small pinches of salt, to taste
2g (1/4) Sriracha sauce (or substitute with Tobasco, or diced red chili)
10g water, or quantity required to get good consistency
Add to taste: Cayenne or piment d'Espelette powder, grated fresh ginger, grated fresh turmeric (optional), chili oil (optional but good!)
Small bunch of fresh cilantro, chopped finely
Simply blend all ingredients. Taste and adjust as necessary. Store in refrigerator. Holds for many days.
If starting from a whole mango, peel and remove the fruit from the pit. Place in a food processor and blend until smooth. If too thick, add a little water. It will discolor very quickly, so you should add the lime juice immediately. You can also freeze any remaining quantity in ice cube trays.