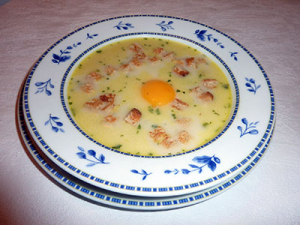 Summer 2021 weather in the southwest of France has been up and down, with more rain than usual – not at all typical! At the moment, when it's not warm enough to eat outdoors in August (unheard of), a hot soup is appropriate. This is a traditional recipe from the southwest of France that has many variations. Even the name has its own variation as it is sometimes referred to as Tourin. It's important to use fresh, high quality garlic needless to say. The Tourain is also traditionally served at weddings, at the wee hours of the night…I suppose it helps keep the party going! There is a Fête de Tourin every year in the nearby village of Villeréal where locals compete to win the price for the best garlic soup. It's not difficult to prepare and it's my "go to" recipe when looking for a last minute soup because the list of ingredients is minimal and always on hand. Enjoy!
Ingredients – for 8 people as 1st course
Main Ingredients
5-7 fat cloves new garlic (50-70g), sliced or chopped finely
About 4T duck fat (or olive oil)
About 3 soup spoons of flour
2 liters Water
Bouillon Cube – quantity desired
2 eggs, separated
25-30g / about 1/3 cup Vinegar (red wine or cider)
Seasonings as required: salt, Cayenne, more vinegar or lemon juice
Secondary Ingredients to Add to Finished Soup
Bread – about 3-4 cubes per person (or quantity desired)
Gruyère or emmantal cheese, grated – served at the table, about 2 tablespoons per person
Preparation
Prepare the ingredients (mise en place):

Peel garlic.

Slice it finely or chop in processor.

Set aside.
Separate yolks from whites & set aside.

Add vinegar to yolks.

Mix well.
Grate cheese; store in fridge until needed.
Cut country bread into cubes (traditionally day old bread).

Make soup:

Cook the garlic gently in olive oil – low heat with no color, about 2 minutes.

Do not allow the garlic to color.
Add flour like a roux.

Cook a couple of minutes, stirring (no color).
Add water, a couple of tablespoons at a time, off the heat.

Each addition should create a paste.

Put back on stove to heat as necessary but avoid lumps.

Gradually add more and more water until the paste thins.

This process continues to cook the garlic so that it softens (both in texture and flavor).

Takes about 5-10 minutes.
At a certain moment, add a pot full of water.

You can also add a bouillon cube to taste for extra flavor (optional). Bring to a boil.
Taste to see if the bouillon & garlic flavors are pronounced enough.

Add more, to taste & to suit your preference.

Season with salt, Cayenne pepper or white pepper.
Add whites to soup. Stir very lightly and then just let cook a minute or until whites are solidified.

The less you stir, the more egg lumps are present, which is how I prefer it.
Once whites are done, add a little hot broth to the egg yolk/vinegar and stir. Add this back to the pot all at once and stir.

The goal is to avoid having cooked yolk – the yolk should act as a thickener if it is done properly.

It also makes it unctuous.
Taste and adjust seasoning as required (salt, pepper, or a splash of lemon juice if required).

The flavors should come together at this point & taste delicious.

(If not, please readjust until you get there!)
To Serve
Place bread cubes in soup terrine (or in individual soup bowls).

I usually count on about 3 to 4 cubes per person, depending on cube size.

Bread cubes can be day-old that is dried out.

It doesn't matter here!!

It's a good way to use up day-old bread.

However, I love to use caraway seed or grain bread as it's more flavorful.
Ladle hot soup over and serve immediately.

The bread should absorb liquid.
Top with grated cheese.
Enjoy!