What do you give a man on his 67th birthday? M had the answer: dinner at La Méditerranée. Five years later my friends Paul and Minche Myers had the same answer.
Five years ago we were ushered to our table, facing the Théatre de L'Odéon, and crisp radishes with butter from Normandy and sel de mer were placed before us in anticipation of flutes of Ruinart rosé.
We knew we would be having seafood but wanted to skip the white wine cliché and were delighted when our sommelier selected a 2009 Beaune-Grèves 1er Cru rouge from Domaine Jacques Prieur.It had a delicate nose of red fruit, was long on the bouche with a big finish-delicious or more precisely un rève!
This time we were seated and Paul immediately ordered a bottle of my favorite provencal white: Clos Ste. Magadeine from Cassis.
For starters we shared a light and refreshing carpaccio of bar and a crab caesar salad.
As a main course Paul and Minche recalled a dinner in Marseille with Daurade Royale and M and I had filets de rouget.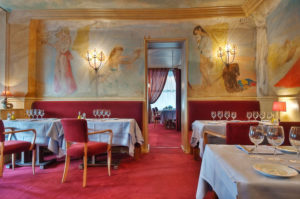 Five years ago
I wanted to share an art-filled ambiance so we headed to La Méditerranée. It is a gorgeous dining room with murals painted by Christian Bérard. Jean Cocteau was a regular since the opening in 1942 and the napkins and plates feature his design.
As the name suggests you will find a predominantly seafood menu (carnivores are welcome- 2 or 3 options are available) inspired by the Cote d'Azur beginning with a rich soupe de poisson avec rouille. We selected an assortment of entrées accompanied by a buttery white 2010 Crozes-Hermitage from Laurent Combier.
Tartare de thon Rouge, Huile d'Olive San Guido
Petites Sardines du Midi en deux recettes, marinées à la Tomate et en Accras
Asperges vertes du Lubéron, sauce Vinaigre au jus de Carotte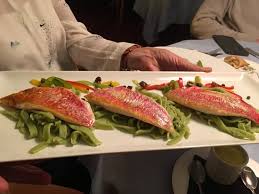 We drank slowly so there was enough to savor with Filets de Rouget barbet à l' Anchoïade, Pomme Ratte écrasées à la fourchette, Filet de Saint Pierre au beurre persillé , Fondue de Tomate et pomme Purée and Daurade Royale Laquée de Miel , Polenta Crémeuse au Vieux Parmesan-the honey glaze added a crunch and light sweetness.
Next up was a cheese assortment washed down with a Sancerre rouge, followed by a dessert and a yummy 2003 Coteaux de Saumur Grise from Chateau Tour in the Val de Loire.
A little pricey à la carte but the luncheon Menus at 31 euro entrée, plat or plat, dessert and 37 euros entrée, plat, dessert are a very good value and you'll love the space.
M: Odéon