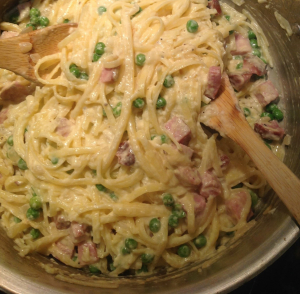 FETTUCCINE alla PAPALINA - ROMA
(The Pope's Pasta)
Serves 4
Ingredients
14 ounces of fettuccine or tagliatelle, fresh or dried
1 small onion, peeled and finely chopped
1 cup of fresh shelled peas, or frozen if not in season
1-1/3 cups of cooked ham, cut into 3/4-inch cubes
1 cup heavy cream
3 large eggs
1 cup Parmigiano cheese, grated
1 tablespoon of butter/or olive oil
Salt for pasta water
Black pepper, freshly ground, to taste
Directions
Shell the fresh peas, if using, and cook them in a little boiling salted water for 10 minutes. (Fresh peas take longer to cook than frozen.) In the meantime, beat the eggs in a bowl with the grated Parmigiano.
Put a pot of water on to boil for the pasta. Add salt once it begins to boil and bring it to a boil once again before adding the pasta. In a sauté pan, cook the finely chopped onion in the butter or olive oil until translucent. Add the cooked ham and all to cook for a few minutes. Then, add the peas and allow the flavors to marry. If the peas are still too hard, add a little water to the sauce and cook a bit longer. Then, add the heavy cream and all the cream to reduce a bit. Add both ground black pepper and salt to taste.
Cook the pasta al dente according to the package directions. If fresh pasta, cook for 1 to 2 minutes. When cooked, lift the pasta directly from the pasta water into the sauté pan with a pasta spoon. Pour the beaten eggs and cheese over the hot pasta and sauce. Mix all together well until the pasta is coated in the creamy sauce. Serve immediately, with liberal sprinklings of grated cheese and freshly ground black pepper. Fit for a Pope!