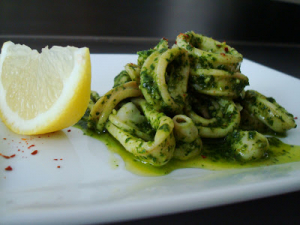 If you like Mediterranean food, including baby squid, you just might like this recipe. It's absolutely delicious if made with fresh baby squid, which is not difficult to find at the outdoor markets in France. In fact, I would only make this with fresh squid and nothing else. This becomes a great entrée (first course) for warmer summer weather and can be served at room temperature.
When I was an intern at Hélène Darroze's restaurant on rue d'Assas (almost 15 years ago), I had the daily task of cleaning the morning arrivals of encornets. Every day, hundreds would be prepared (or so it seemed!)! If your baby squid come "as is" (ie, fully intact), you will have to clean them up. First, separate the tentacles from the mantle (main body part). Pull them apart gently, being careful not to break the ink sack that can be found on the inside. I suggest to wear gloves! Set aside the tentacles and inside parts, and work on the mantle (manteau en français). Remove the little fins and skin on the outside of the mantle. The fins are edible. Inside the mantle you will find a clear plastic looking, sharp and long piece (the internal shell) – remove this and throw away. Rinse the mantle thoroughly to remove all sand. For the tentacles, cut any really long ones, and then cut just below the eyes. Remove the hard beak. Scrape off any skin or rough parts off of the tentacle. Rinse. Reserve this for another use (or throw it in your pan if you like, with the slices).
Ingredients for 4 people

600g whole baby squid, cleaned up & cut into small rounds;
pat dry with paper towels.
Salt and white pepper, to taste
1 lemon to garnish the plate
Pesto
2 bunches of fresh basil
1 clove of garlic (2, if you love garlic)
80g (approximately) of freshly grated parmesan, high quality
80g (approximately) toasted pine nuts
Splash of lemon
Approximately 100 ml of high quality extra-virgin olive oil
Steps
Pesto:

Bring small pan of water to a boil.

Add garlic and cook about 30 seconds, then transfer immediately to cold water.

Add basil and do same thing, but only blanche up to 30 seconds.

It doesn't need more.

Wring out excess water after cooled down.

In your food processor:

Add garlic & process until pulverized.
Add basil, parmesan & pine nuts.

Process.
Add olive oil & lemon juice.

Process until smooth.
Adjust seasonings & ingredients as necessary.

Reserve pesto in a jar.

If you have leftover, top it off with olive oil to help preserve the bright color.
Squid:

Heat frying pan on medium-hot.

When hot, add splash of olive oil.

Season calamari with salt & pepper.

Add the calamari rings.

It should sizzle.

Exhaust fan is on.

Only cook until tender.

Some water will be released.

Don't overcook or they become rubbery.

The only way to know is to taste one from the pan! Once tender, remove cooked squid to a bowl.
Add enough pesto to coat well.

Taste and add more pesto and/or parmesan, if needed.
Plate it up, adding a lemon wedge for guests to squeeze themselves.
Be sure to serve with a fresh baguette and a nice Sancerre!