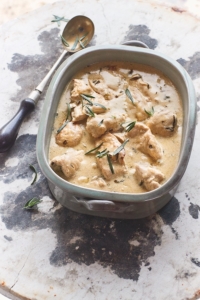 It's hard to find a better marriage of ingredients than those in this classic French dish. It is vital to use the correct tarragon (see the box).
Serves 4
2 tablespoons olive oil
2 tablespoons unsalted butter
4 skinless bone-in chicken thighs, or boneless, skinless breasts cut into 2 or 3 large chunks
1 bunch of fresh tarragon, leaves stripped from half of them and reserved
1 large shallot, peeled, finely chopped
2/3 cup (5 fluid ounces / 150 milliliters) chicken stock
1 1/2 tablespoons sherry vinegar
1/4 cup (2 fluid ounces / 60 milliliters) Cognac
1 tablespoon Dijon mustard
1 cup (8 fluid ounces / 240 milliliters) crème fraîche or heavy cream
Salt and white pepper, to taste
Note:
In the United States, Russian tarragon (Artemisia dracunculoides Pursch) is the variety stocked by most supermarkets. It is almost flavorless and useless in cooking. French tarragon (Artemisia dracunculus sativa), lightly tongue-numbing with an aniseed taste, is the only tarragon to buy for cooking use. Since it is a delicious ingredient and not hard to grow, it's worth planting some, in the ground or in a flowerpot. The most common way that tarragon is sold in a garden center is as an individual plant. Check you are buying the correct variety.
Preheat the oven to 350°F/180°C.
In a large sauté or frying pan, melt 1 tablespoon of the olive oil with the butter over medium-high heat, and quickly brown the chicken, in batches if necessary to maintain the heat, till it's light gold in places. Remove the chicken to a baking dish, and tuck the tarragon sprigs around the pieces.
Add to the pan the remaining 1 tablespoon olive oil, and sauté the shallot over medium heat until it's transparent. Add the chicken stock, sherry vinegar, and Cognac, scraping up the caramel. Lower the heat, and simmer for about 5 minutes. Add the mustard and crème fraîche. Season to taste. Pour this over the chicken, and bake, covered, for 30 minutes. Stir in the reserved tarragon leaves, and serve.
Note: Poulet à l'estragon is a useful dish for large parties, because it can be prepared ahead right up to the final point of putting it in the oven. If you are multiplying quantities for a crowd, use chicken breasts only. Put them, cut into large chunks, into a mixing bowl. Melt an appropriate quantity of oil and butter—how much depends on how much chicken you are cooking for your multitude of guests. You need enough melted fat to coat each chicken piece. Instead of browning the chicken in the usual way in batches in the pan of melted oil and butter, pour the melted butter and oil directly over the chicken in the bowl, and toss the pieces thoroughly to cover. Now brown the greased chicken in a hot, dry pan in small batches. This way, you won't get burnt butter "sand" from a previous batch sticking to the chicken pieces, which can happen as you progress, and which will then dot the pale cream sauce with black spots. If you begin to see "sand," just quickly wipe the pan out with a paper towel.
Credit line: From Bruno's Cookbook: Recipes and Traditions from a French Country Kitchen © 2023 by Walker and Watson, Ltd. Excerpted by permission of Alfred A. Knopf, a division of Penguin Random House LLC. All rights reserved. No part of this excerpt may be reproduced or reprinted without permission in writing from the publisher.