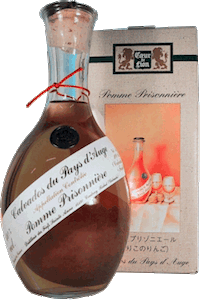 There are three things you can count on in Normandy: Rain, Camembert and Calvados. Today we had all three.
M and I were invited by Christian and Beatrice Drouin of The Christian Drouin Calvados Estate, in Coudray-Rabut, near Pont l'Evèque for a tour, tasting and lunch at this producer of fine Calvados. Inherited from his father, Christian, has now passed the reins to his son Guillaume who has been very innovative in marketing Calvados Drouin.
The drizzle and the cool temperatures reminded me of my first visit during Normandy's colorful, New England-like autumn, apple aromas filled the air as apples are harvested to make that potent spirit that fortifies on a frosty winter evening.Unlike Cognac, that is exported in impressive quantities around the world, Calvados is produced in much smaller quantities and with the exception of some of the top producers, is consumed locally.
I was met in the orchard by Guillaume Drouin, grandson of the founder, who began my Calvados education with a discussion of the thirty varieties of apples and pears that give Calvados it's distinctive flavor. They range from bitter, tart, slightly acidic and sweet; crunchy and soft, as we discovered by sampling those that had fallen to the ground. An interesting sidelight to the production is that the cows that produce Normandy's famous cheeses: Camembert, Pont L'Eveque and Livarot, love to eat the worm-eaten apples that fall in September- excellent natural fertilizer.
After distillation the Calvados in aged in oak casks that were previously used for sherry, port and Banyuls. These re-used casks give more body, richer color and greater aromatic richness that new casks.
This time Mme. prepared an intimate lunch at their nearby half-timbered pied à terre. We began with a Pommeau-the pineau de Charente of the region followed by moist foie gras au pommeau (a blend of Calvados and apple juice) served with Poiré, a slightly sparkling beverage made from the pressing of pears immediately after they have fallen from the tree.An ideal summer apéritif.
The main course was pan cooked quail, served with a VSOP blend of 5-12 year old Calvados. It was an equally good partner with a classic Normandy assortment of Camembert, Pont l'Eveque and Livarot.We finished this simple, classic Norman meal, with a tart tatin and a 1995 Pays d'Auge.
And now we were ready for some serious tasting of the young and the old, including a 1958 and the limited production Pomme Prisonnière that I first tasted at the Left Bank restaurant in Larkspur, California in 1992.