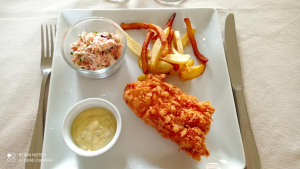 I consider Fish & Chips to be a 'once in a while' treat. I prepare it maybe 3 times per year. Although I absolutely love the taste and texture, it is a fried food, so we enjoy it only every so often. That's just us. For those fish & chip lovers who could eat it regularly, you will be pleased to know this is a very fast and easy recipe! There are a couple of important things to consider when making fish & chips. First, choosing a good piece of fish is critical. I like to use either sea bass (from the Atlantic or Mediterranean seas) or cod steak because they are mild white fish and they have good structure. Another important element of this recipe is the coating. Sometimes I make it with a beer-batter mix, and other times with a traditional bread coating. This recipe uses a breaded crust with Japanese Panko breadcrumbs which, given its clumpy big texture, results in a very desirable crunchiness of the crust! Finally, it is very important to rest the fish filets in the fridge after they've been breaded, and before frying. Warning: cook in a well ventilated area and not recommended for people sensitive to fish odors in their kitchen!! Serve with hand cut French fries and a tartare sauce, mayonnaise, or other creamy sauce. Enjoy!
Ingredients – for 8 people
Main Ingredients
8 fish filets, about 135g each
Flour, quantity needed for coating the filets (about 100g or ½ cup)
About 3 egg yolks, maybe 4
Panko bread crumbs, quantity needed for coating the filets
Seasonings: Salt, pepper, herbes de Provence, Old Bay seasoning or other seasoning blend of choice. Curry is nice, too!
Peanut oil, duck fat or other frying fat
Preparation
Prepare the fish.

If you have a whole filet, remove all bones.

Cut into individual portions.

Dry each piece completely.



Prepare the "panure à l'anglaise" breading station.

Line up 4 trays, in the following order (side by side):
Tray 1:

put flour in it & add seasonings (noted above).
Tray 2:

put egg yolks in it.

Add half a tablespoon of extra virgin olive oil, and a tablespoon of water to thin.

Get consistency right so that it is thick enough to hold the bread crumbs but not too thick. This may require you to add a tad more water (careful not to overdo it!). Season with salt & pepper.

(Note:

you can substitute the egg yolk with whole eggs in which case you need to mix it well and add some olive oil but no water should be required.)
Tray 3:

put panko bread crumbs in it.
Tray 4:

leave this empty.

It is intended for the finished breaded fish filets.

Bread the fish:

Dredge a fish filet in the flour, shaking off any excess.
Place it in the egg yolk, coating it thoroughly.

Let any excess drip off.

Place it in the tray with the panko crumbs and roll it around by shaking the pan, and placing extra crumbs all over it until well coated.

Transfer breaded fish filet to the 4th tray.
It is highly recommended that you keep one hand "dry".

In other words, work with only 1 hand to go from the yolk to the crumbs.

Use the other hand to take the fish from the flour to the yolks.

Otherwise, the messiness of this process will drive you crazy!!
Repeat for remaining fish filets. If you use up the flour, egg yolks or bread crumbs, simply replenish with as much as you need.

Cover the tray with breaded fish filets with cling film and let rest in the fridge for about 60 minutes. You may like to re-dip in the bread crumbs before frying (but this isn't necessary if it is well coated to begin with…)
Heat fryer to 190°C – it takes about 10 minutes to pre-heat.

Place as many filets in the fryer that it can handle without overcrowding and causing them to stick together.

Fry 3-4 minutes (depending on the thickness and size of the fish) or until fish is hot inside and the outside is crispy. Remove onto a tray lined with paper towel.

Gently dab off any excess oil and season with salt and piment d'Espelette.

Either serve immediately or hold in a pre-warmed oven at 150°C while you fry off the rest.