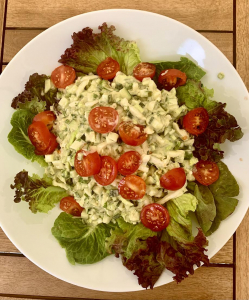 Crunchy summer salad with avocado-tahini dressing
This recipe is all about the dressing – it is absolutely delicious and so flavorful that you'll want to eat it by the spoonful! Plus, as the base ingredient is avocado, it's lighter and healthier than a standard mayonnaise-based creamy dressing. Put it on anything and everything you can think of to make a salad. Today, I had a fresh cucumber from the garden, an organic banana green pepper (ultra-fresh and crispy with no bitter taste), and Nappa cabbage. It was the perfect salad to counterbalance the insane heat we've been experiencing in southwest of France. Enjoy!
Ingredients – for 2-4 people
Dressing (makes more than you need for the salad)
1 perfectly ripe avocado
85g (1/3 cup) tahini
35g fresh lemon juice, about ½ a lemon, to taste
45g (2 tablespoons) Greek yoghurt
35g (3 tablespoons) high quality extra virgin olive oil
3g homemade garlic paste, or 1-2 cloves garlic, to taste
160g (3/4 cup) cold water
Salt, Aleppo pepper (can substitute Cayenne pepper)
Couple drops of Tabasco sauce
Pinch or two of ground cumin
Lots of cilantro, some mint if you have it
Salad
1 small cucumber, chopped in a small cube
1 sweet pointed Palermo pepper, seeded and chopped finely
(can substitute with other pepper you have available)
½ head Nappa cabbage, core removed, grated or shaved finely
(can substitute with green cabbage if you prefer)
Freshly chopped cilantro
Salt, piment d'Espelette
Organic lettuce leaves, cherry tomatoes – quantity desired
Instructions:

Dressing:

If your avocado is perfectly ripe and soft, you can use a hand mixer to make the dressing.

You can also use a food processor.

I find the hand mixer, when possible, is much easier to clean.

Start by mixing the avocado in a bowl until mostly smooth.
Add all other ingredients except the water.

Mix until smooth.
Add the water, little at a time, until the texture is light, airy, and well combined.

You may not need to use all of the water.

Stop adding water when you have reached a good consistency.

Reserve in the fridge.

Salad Prep:

Chop all ingredients and place in a medium bowl.

For the cucumber, you can leave in the seeds or remove them before chopping – your choice!

If the seeds are small, I leave them in.

Chop the fresh herbs just before assembling the salad.
Assembly:

Season vegetable salad with salt and ground red pepper.
Add just enough dressing to coat nicely. Stir to combine well.
Line a bowl or plate with lettuce leaves.
Top with the dressed salad.
Top with juicy, ripe cherry tomatoes that are full of flavour.

You can optionally drizzle olive oil over the tomatoes, and season with salt and pepper (either before using or after it is on the salad – your choice!).
Best served cold and enjoyed immediately.
Notes:
Dressing can be made the day before.
Salad ingredients can be chopped hours before using, and stored in the fridge.

Salad is best tossed and assembled just before serving.