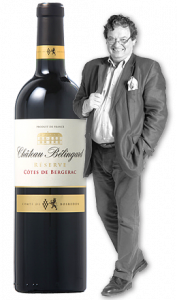 By Martin Walker
The wines of Bergerac have just brought home a spectacular total of 39 gold medals and 42 silver medals from the latest Concours Agricole in Paris. This an extraordinary result which reinforces the long-held view of this column that Bergerac wines are one of France's best-kept secrets: excellent wines at bargain prices.
It was also heartening to see how many of the vineyards visited and described in these columns have won gold medals. Earlier this year I was raving about the excellent wines being produced by Chateau Le Raz in the Montravel region in the west of Bergerac. In particular, I sang the praises of the IGP wines they produce (not part of the appellation contrôlée system) and they have won two golds. The chateau won a total of five gold medals, another one each for the red, white and rosé.
Many more of my personal favorites also won gold medals. Ch Bélingard, where wine has been made before Roman times (the name comes from the Celtic for garden of the sun god) won gold for their rosé. Ch Le Fagé, with its glorious site atop the ridge that rises from the valley of the Dordogne, won gold for its 2019 Monbazillac, a wine I backed when it won our regional concours.
In the Montravel, Chateau Puy Servain won a gold medal for its red wine, and Chateau Moulin Caresse won two golds, one each for their red and their white. South of the Dordogne river Domaine de Lac at Ginester won two golds for the reds. Chateau Monestier La Tour also won two gold medals, one each for their red and their white.
It was also striking to see how well our often-criticised co-operatives performed at the Paris Concours. The Monbazillac co-op, which has done a terrific job of restoring and taking care of the Renaissance gem of a chateau that dominates the ridge that you can see from the banks of the Dordogne in Bergerac, won a gold medal for its red wine and two silvers for their whites.
Alliance Aquitaine did even better, winning four gold medals: two for their Pécharmant from Ch La Renaudie and one each for their standard red and rosé wines. Started back in 1934, the co-op steadily grew and now has 140 members, working 1380 hectares of vines in the Bergerac and Bordeaux, and producing five different appellations.
I have long had a soft spot for the Sigoulès co-op, ever since at my local farmers' co-op I came across a bottle of their Merlot for 4 euros, tried it and was impressed. They also do a very good generic Sauvignon blanc at 4.20 euros. The co-op has seventy members, farming 960 hectares, and they offer a wide range of very good value red, white, rosé and sparkling wines.The co-ops 10-litre box of Bergerac white wine at 23.80 euros is a good buy for summer, and the 5-litre box of Merlot at 14.90 euros is a bargain.
The co-op took over the legendary vineyard of the Englishwoman Patricia Atkinson, Clos d'Yvigne. Her book, The Ripening Sun, memorably recounts the story of taking over the vineyard after her marriage ended, and making it into a stunning success. Her tradition continues. The co-op won a gold medal for the wine at last year's Paris Concours. The co-op offers a 1.5 litre bottle of Clos d'Yvignes at 18 euros, and a 3-litre bottle at 49.50.
Many of the vineyards I have described in these columns also won silver medals, including the Piazetta family at Ch les Brandeaux, Domaine de Siorac, and Domaine de Pécoula. It was a pleasure to see silver medals for Pascal and Flavie Cuisset (and their basset hound) at Ch Les Eyssards, and for Isabelle and Thierry Daulhiarc at Ch de-Payral and David Fourtout at Les Verdots.
Bear in mind that not all the winemakers of the region choose to present their wines at the Paris Concours; it represents a considerable investment in time, transport and money to do so. And there are many other concours where distinctions can be won. And there are other ways of winning serious plaudits for one's wine, and few are taken more seriously in the wine world than a rave review from Jancis Robinson, one of the first women and the first person outside the wine trade to pass the grueling tests to become a Master of Wine. She writes the wine column for the Financial Times and advises the queen of England on the wines to buy for the royal cellars. Her Wines Notes are taken extremely seriously, so hear is what she had written about La Source, one of my fav ourige red wines from my friends Caro and Sean Feely at Chateau Feely.
'Crisp red fruit and so beautifully delineated on the palate that it tastes as if it's been carved from redcurrant and blackberry stained glass. There is a fragrance of cedar and green tobacco leaf and sandalwood shavings and green peppercorns that seems to fly through the nostrils. The tannins are remarkable – I'm not sure I've come across anything quite like them. They are there, but not there. They have the exquisitely beautiful, cut structure of an Olympian long-distance runner, but it's as if the fruit and spice throw this feather-light invisibility cloak over them. You actually have to stop and consciously look for them to notice them. There is a little Harry Potter magic in this wine... Achingly fresh and yet dense and with this explosive, resolute energy that carries the wine long, long past the finish line. I hate to say this, but it's a ridiculous price.'
This paean of praise was annotated VGV, which means 'very good value'. I could not agree more.