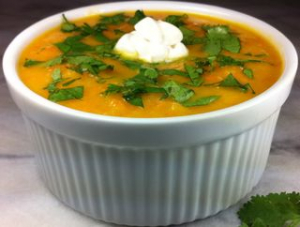 This is a vibrantly beautiful and creamy soup that can be served several ways: on its own for a simple mug of soup, as a bowl of soup topped with crispy croutons and a vegetable brunoise, or in a shooter glass for a fun amuse bouche. Enjoy!
Ingredients – for 3 liters or more
Quantities are approximate
1 lb carrots, peeled and sliced (about 1-2 inch slices)
1 medium-large rutabaga, peeled and medium-sized diced
About 1 cup of medium-sized diced butternut squash
1 onion, large dice
1 stalk celery, sliced
1-2 cloves garlic
Tip of a fresh jalapeno pepper (about ½ inch), sliced & seeds removed if any
1 small regular white potato, medium dice
1 liter vegetable stock
½ pint or so, heavy whipping cream
Salt, cayenne
Seasoning to taste: lemon juice, cumin, garlic, S&P
Cook vegetables in stock pot in olive oil.

Add some olive oil to large stock pot & add the onions, celery and sliced jalapeno.

Cook till softened, then press in the garlic.

Add the carrots, rutabaga

& squash.

Add more oil if necessary – it should be glistening.

Cook about 10 minutes or so.

Stir often and don't let any of it brown (we want to keep a bright color in the finished soup).

Add the potato.
Add the liquids.

Add the stock & cream.

Season with salt (about 2 tsp).
Bring to a boil & cook till veggies are soft.

This may take about 15 minutes.

Final cooking time depends on size of the dice.

Prick with a knife and if it's soft, it's done.

Once soft, remove from stove top and let sit about 15 minutes to cool a little before proceeding to next step.
Blitz in blender, food processor, stick blender or other mixer.

Blitz in batches until smooth and velvety in texture.

Combine all batches.

Adjust consistency by adding some more stock or water if too thick, or cook down if too runny.

Taste and adjust seasoning.

Storage. Can be made days in advance. Store in an airtight container in the fridge.