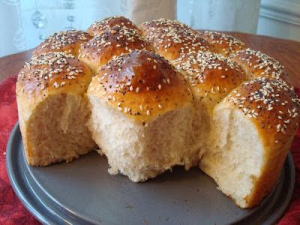 Sometimes I get a craving for a soft dinner roll which I've not seen in any boulangerie here in France. They're not difficult to make, so when the craving hits, here's a delicious recipe. As an added bonus, it will fill your kitchen with scents of baking bread which will bring much happiness to all who encounter it! You'll find yourself eager to dig in….or "pull apart", as the case may be!
This Michael Ruhlman recipe has been around for a while, but any good recipe stands the test of time. Nonetheless, I can't help myself from tweaking recipes, even good ones. I changed some weights slightly, but most importantly, to me anyway, is that I use the "everything bagel" topping instead of sesame seeds. For anyone with access to Trader Joe's, I understand it's possible these days to buy this topping there, but in absence of that, I've done my best to recreate it here.
The interesting thing about these rolls, I find, is that there is no butter or oil in them. The buttermilk provides the fat. Although you might miss the butter/olive oil flavor when you first taste one, I assure you this is the last thing on your mind when mopping up a sauce! In fact, I think this is the sole reason this pull-apart dinner roll should exist! That, and enjoying it (slightly warm from the oven) with a slather of delicious salted butter at perfect room temperature…! Make sure you allow a good 4 hours to make these fluffy rolls given all of the resting time required. These are best served warm from the oven - they can be lightly toasted the next day but nothing beats them straight out of the oven.
Ingredients for 26 small rolls (or 13 giant rolls) 

Bread
710g flour (1 lb 9 oz)
510g buttermilk (18 oz)
7g Active dry yeast (1/4 oz or 2 teaspoons)
14g salt (1/2 oz or 1 tablespoon)
40g honey (1½ oz or 2 tablespoons)
Topping – this makes more than you need but use the leftover in salads, on potatoes, or on a cracker with cream cheese!
1 teaspoon each of poppy seeds + sesame seeds + garlic salt + onion powder + thyme AND 2 teaspoons of salt AND some freshly groune pepper to taste.
Egg wash: 1 egg yolk + a little water
Steps
Make dough in KitchenAid:
Make sure buttermilk is tepid, if not a little warm (definitely not cold). Warm slightly if necessary.
Weigh buttermilk into bowl of stand mixer. Add yeast and proof for about 10 minutes. It should look active. You can skip the proofing step if you are sure to have good yeast!
Carefully weigh in the flour, salt and honey into the stand mixer containing the buttermilk/yeast. Using the dough attachment, mix on medium-low until dough is smooth and elastic, about 10 minutes. (Careful when you first start!)
1st Rising:
Spray top with a good mist of olive oil to prevent drying during the 1st rising.
Cover bowl with clean, damp kitchen towel. (I've stopped using oiled plastic wrap here and it is perfectly fine with a kitchen towel.)
Let rise until tripled or quadrupled in size. This will take at least 2 hours, maybe three or more depending on temperature of dough & kitchen. You can also use a 35°C proofing oven.
Form into Balls & 2nd Rising.
Turn dough out onto counter & give it a good knead. Add back some flour if too sticky but avoid adding excessively.
Divide the dough into equal portions, rolling into a ball with the palm of your hand against the tabletop.
You will get a baker's dozen mega rolls weighing about 100g (weight before baking) – extra-large size.
It'll make 26 rolls if about 50g each. I like this size!
Dust bottom of springform pan (or other baking pan) with flour, or use vegetable spray. Note that this may be optional depending on your pan, but better safe than sorry.
Fit dough balls into baking pan. Cover & let rise for an hour.
Baking:
Make egg wash: Blend 1 egg yolk with a little water.
When the rolls have risen the 2nd time, brush them with the egg wash, sprinkle with topping & bake for 20 - 30 minutes (to an internal temperature of 90-93°C / 195-200°F).
Let rest for about 10 minutes before serving.