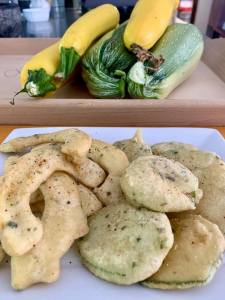 Those of us who have vegetable gardens tend to always look for ways to use up zucchini! They are not only easy to grow, but they grow rapidly. I've seen one go from normal size to gigantic (35-40 cm or over 1 foot long) practically overnight! Here at Château Ladausse, the zucchini are coming at us fast and furious. Making zucchini beignets is just one way to put them to good use. Warning: this recipe is not for those on a diet or with heart conditions because it is a fried food. However, it is fast to prepare (if you have a fryer already on hand) and makes a quick snack – and also good with a salad or served with tziziki. A traditional "pâte à frire" beignet dough recipe is more complicated and time consuming to prepare than this recipe. However, I would trade off the additional crunchiness you might get from the traditional batter made with beer for the ease of making this one. Plus, with the hot weather we are currently experiencing (forecast to be 36°C / 97°F), I would much rather enjoy the beer cold in a frosted mug!! ☺ The only advice I would give on this recipe is to be sure to season the batter extremely well. As we all know, zucchini tends to run on the "fade" side (to use the French word which means bland), so the seasoning has to be interesting and spot on. Also, if you keep the slices to 3mm thick, it is better than thicker cut slices where the middle becomes too mushy for my liking! I've already used this same batter recipe for coating and frying up pineapple and apple slices. I added a tablespoon of sugar to the batter instead of the savory seasonings and it is also very good. Enjoy!
Ingredients – for about 2+ dozen beignets
Pâte/Batter
15 cl (150 g) water or milk
125g flour
1 tablespoon (15g) grapeseed oil or other neutral oil
2 egg whites (70g)
Seasonings: 8 large basil leaves (about 3-4g), masala powder, herbes de Provence, ground smoked adobe chili pepper, dried garlic powder – all to taste. I don't add salt here because the beignet is salted when it comes out of the fryer, and a good pinch of salt is added to the egg whites.
Zucchini:

Cut zucchini rounds into 3 mm pieces.

If you have a monster zucchini, slice into rounds, but then if the middle is soft and full of seeds, then cut in half and remove the interior with a spoon, leaving a half moon.
Fryer:

Pre-heat to 170°C.
Batter:

Weigh flour in a large bowl.

Add fresh herb and seasonings.

(If doing a really large batch, I will throw the whole basil leaves in the bowl of a food processor along with the flour – this works well to chop the basil and mix all herbs well.

Otherwise, chop by hand).

Measure water or milk (or a combo).

Make a well in the middle of the bowl with the flour.

Gradually pour in the liquid, incorporating a little of the flour at a time (much like making a crêpe batter).

Once all the liquid is used, add the oil.

It should be somewhat thick.
Whisk to firm peaks the egg whites, along with a good pinch of salt.
Fold the whites into the batter.

The batter should now have thinned slightly, but it's still thicker than a crêpe batter.

It's ready to use immediately.
Fry & serve

Dip each slice in the batter and shake off any excess.

Place in fryer and fry 3-4 minutes or until golden.

I don't place this on the basket of the fryer because it might stick.

Instead, I carefully lay the zucchini slice into the fryer oil– but be careful not to touch the hot oil or to create a splash of hot oil!!
Transfer fried zucchini to a tray lined with paper towel.

Use another paper towel to tap on the top to absorb any excess oil. Immediately season with salt and piment d'Espelette.
Let cool slightly and serve.

It is too hot to serve straight out of the fryer.