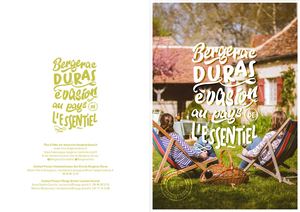 Most of us, I suspect, would prefer to drink wines that neither damage the environment nor threaten our own health. We do not like the thought of drinking wines that contain the remnants of the chemical pesticides, fungicides and insecticides that for so long have been heaped over the vines and fields in the interest of productivity, efficiency and profit.
The problem is to get clear, accurate and up-to-date information to help us, the consumers, to know what we're eating and drinking. So I greeted with pleasure a new pamphlet, titled Le Sens de la Nature, from my friends at the Vins de Bergerac et Duras. It is full of useful and hopeful information and lots of good news.
It hails the increased use of bats (rather than chemicals) to attack the Eudemis butterly, a serious scourge in the vineyard. It describes the advanced new network of weather stations that aims to give each vineyard a reliable local forecast fourteen days ahead.
It stresses the steady rollout of fruit trees being planted among the vines (something the Romans used to do) to promote biodiversity.
And it describes the use of new smart and green weed-scourers, controlled by drones, and the new structures to help farmers, vineyards and wine merchants, schools, banks, local councils and co-ops work together for a greener future. Above all, it tells us that 80 percent of vineyards in our region now 'are engaged in the environmental process,' with a target of making that 100 percent by 2024.
That sounds great, but what does it mean exactly?
Going into the small print, we learn that 53 percent of our vineyards can now put an environmental label on their bottles. That breaks down into 28 percent of vineyards that can carry the green AB sign, which stands for Agriculture Biologique, and 25 percent can carry the label HVE3, which stands for Haute Valeur Environmentale.
This is where it starts to get complicated. The AB label forbids the use of herbicides and of chemical fertilisers. It also forbids produits phytosanitaire de synthèse, which means synthetic products for plant health and in particular, according to my Larousse dictionary, to tackle parasites which threaten plant health.
All this sounds good but it also means that, unlike the USA where a wine cannot be labeled 'organic' if it contains any added sulphur, the AB label permits the use of small amounts of sulphur dioxide in the vat.
The HVE3 label is even more complicated. It certifies that the winemaker promotes biodiversity with hedges, ponds and shrubs, and it cuts down on the use of chemicals without banning them entirely. It's good, but it's not as good as the AB.
Moreover, most people assume that the HVE label means what it says. Not quite. There is HVE1, which permits the use of herbicides, fungicides and insecticides, so long as the winemakers express good intentions to reduce their use. Then there is HVE2, a halfway point between HVE3 (which is serious) and HVE1 (which doesn't mean much at all).
I understand the bureaucratic thinking behind this. To go organic requires a serious commitment of a minimum three years with annual inspections for the farmer and wine maker. It means investing time, effort, money and lots of paperwork. So the HVE process is intended to lure farmers in slowly but surely, step by step.
The problem is that we consumers have to put considerable effort into understanding exactly what it is we are drinking. It is confusing. I have spent a couple of days searching websites and talking to winemakers I know and trust before writing this article.
We are fortunate in this region. The new brochure tells us that there are 7,800 hectares of vines in the Bergerac-Duras, almost 20,000 acres, that are certified AB or in the HVE process. That is two-thirds of our vines which means we are making excellent progress. But this does not yet mean that we have gone green.
There are other labels, like Demeter, which means the vines are certified as being grown under biodynamic rules. This is even more strict than AB, and its use of the lunar calendar and cow horns stuffed with plants or manure and then buried might raise eyebrows. But it works.
Two local vineyards that I know well have gone fully biodynamic. One is Chateau Feely just outside Saussignac, and the other day I shared a bottle of the 2010 red wine, Les Compagnons, with Caro Feely. It was a sublime wine, dense and yet supple, one of the finest wines I have tasted this year. (I also recommend her excellent blog on the website chateaufeely.com)
The other, also in the Saussignac, is Chateau Monestier La Tour, where the Scheufele family have spared no expense in building a state-of-the art vineyard and chai with a dedicated garden producing the required herbal remedies. Any doubts I had about cow horns were banished when I trickled through my hands the soft, fertile soil that had been raw manure before the cow horn treatment. And their wines are lovely.
The element I most missed in this new brochure is the potential that we consumers have to make it clear to wine stores and supermarkets that we want them to rally behind the greening of our vineyards. I know the HVE process is not perfect but this campaign will not be won until Carrefour, Leclerc, Lidl and Intermarche announce that they plan to phase out all wines that are not certified by AB , HVE3 or Demeter.