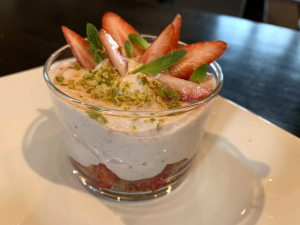 As with chocolate mousse, there are several different ways to make strawberry mousse. This recipe uses eggs instead of the commonly used gelatin to create a creamy mousse texture. It also has very little sugar and absolutely no heavy whipping cream, so in the end, it is a healthy dessert! Although simple to prepare, it does require some effort to whisk the egg yolks over a "bain marie". If you've never done this before, it's OK - now's the time to try! This dessert, best served in individual "verrines" as a "parfait", is a deliciously light way to end a meal. Highly flavored strawberries are the key to success as this recipe only uses a few ingredients. I personally like using the ciflorette variety because of their acidic yet sweet flavor. I also use organic only which is imperative for strawberries.
Ingredients – for 6 portions
Strawberry Mousse
200g (7 oz) strawberries, diced weight without stems
150g (5.3 oz) mascarpone
2 large eggs, separated
50g (a scant ¼ cup) sugar
Other Verrine Ingredients
150g (7 oz) strawberries, diced weight – for bottom of glass
30g speculoos cookie crumbs (or other comparable) – about 6 tablespoons (1 T per person)
6-12 additional strawberries for deco on top, quantity desired
Micro mint leaves
Pistachio nuts, crushed – quantity desired
Make the strawberry mousse.

Purée the strawberries.

Clean and remove stems.

Roughly chop and put into mini food processor.

Process until smooth.

Reserve.

Some people filter through a "chinois" sieve, but I don't find it necessary to do this step with strawberries. Feel free to filter out the seeds if you prefer!
Weigh the sugar.
Weigh the mascarpone in a medium-large bowl.

Reserve.
Prepare the eggs.

Separate whites (into small bowl) and yolks (into small bowl that tolerates heat).

Whites:

Add a pinch of salt and whisk the whites until very firm, then reserve at room temperature.

Yolks:

Set up a bain marie by adding a small amount of water to a small pan on which you can set the bowl containing the yolks, without the bowl touching the water.

Turn the heat on low and place the pan on the heat.

Into the bowl with the yolks, add half the sugar (just eyeball it).

Add about 60g of the strawberry purée to same bowl (or just pour under half the quantity).

Whisk together.

Place bowl on bain marie and continue whisking constantly until it cooks, aerates, and thickens. This takes about 10 minutes.

(The temperature should get to 80°C.)

Remove from heat and continue whisking until cooled.

Add a couple of soup spoons of strawberry purée to the cooked yolk mixture and incorporate well.

This should help cool down the mixture.

Warning:

You can't use this mixture in next step until it is completely cooled down!

Prepare the mascarpone.

Add remaining sugar to mascarpone and whisk on high speed for a minute or so (a hand beater works well).

It should tighten up.

Add the fully cooled cooked egg yolk mixture to the mascarpone and whisk on high until combined and light/fluffy.

Add the remaining strawberry purée and whisk until light/fluffy, about 5 minutes.
Fold in the firm egg whites.

Do this gently as this adds to the texture of the mousse.

Prepare the Verrines

Add about 2 small-medium sized strawberries (cleaned & chopped) to the bottom of each individual serving glass.

Add a spoonful of Speculoos biscuit that has been crushed into crumbs. I use a large spoonful per person.

Other cookie crumbs can be substituted (or graham crackers).
Top with the mousse.

Divide evenly between the 6 glasses.

A spoon works well enough but it can be piped out when making larger quantities.
Let rest, covered, in the fridge for at least 3 hours.
Decorate before serving:

add an additional strawberry, chopped in the longitude sense (or simply chopped).

Add some baby mint leaves and pistachios (roasted and chopped).

Serve immediately!
Storage. The undecorated verrines can be stored in the refrigerator, in an airtight container for a couple of days. The decorations (freshly chopped strawberries, mint and chopped nuts) are best added just before serving.