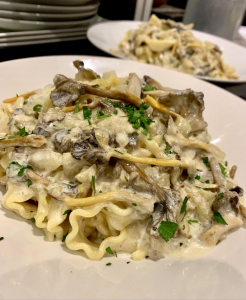 We continue this month to reset our bodies with healthier, vegetarian choices and this stroganoff recipe fits the bill. It's healthy but it does contain pasta carbs, so you have to be OK with that. That's no problem for us – happily, we never met a pasta we didn't like! Normally Stroganoff is made with beef, but this vegetarian version stands on its own and can be made with 100% mushrooms (called mushroom stroganoff), but I like to including fennel and cauliflower or carrot for the flavor and variety. There are many stroganoff recipes out there, but I think the reason this one is a keeper is because the noodles are cooked in the sauce instead of cooked in a different pot of water and served separately. That delicious tangy sauce completely penetrates the noodles, which is what makes them so dang good! Doing it this way also makes it a one-pot dinner – another win! I hope you like my vegetarian version. Enjoy.
Ingrédients – 4 generous portions
340 g noodles, medium width
1 onion, 200g
1 small fennel bulb (white part only), 200g
100g cauliflower or yellow carrot
Olive oil & a couple pats of butter
3-4 garlic cloves
1 tablespoon flour (optional)
500g wild mushrooms (or cultivated)
Juice from 1 small lemon
150-200g dry white wine
1 liter Vegetable stock
Salt & pepper
1 cup Greek yoghurt (240g)
1 cup thick crème fraiche (240g)
Chopped fresh leaf parsley, a small handful or quantity desired
Additional seasoning – If desired
Herbes de Provence
Dried red pepper flakes, or chopped fresh chili peppers
Green onions, green parts only
Fleur de sel
1 tablespoon Worcestershire sauce
½ spicy Dijon mustard
Preparation (takes about 45 minutes total)
Mise-en-Place:

Finely dice onion & fennel, reserving together.

Press the garlic & reserve (you can also press this later, directly into the pan if you prefer).

Grate the cauliflower or carrot using the large grate side & reserve.

Heat a large sautoire or rondeau or Dutch oven pan on medium heat; add oil and then the onions and fennel.

Cook about 5 minutes or until softened.

Add grated cauliflower or carrots.

Season with salt & pepper.

Let vegetables cook until "cooked down a little".

Add a pat of butter.

It should brown a little. Add garlic.

Mix all. Add mushrooms and cook until slightly browned, about 10-15 minutes.

Stir in the flour here if using and cook a minute or so.

Stir in white wine, vegetable stock and lemon juice.

(Optionally add a spoonful of miso paste for extra umami flavour if you have it.)

Add the mustard and Worchestershire sauce if you like.

Simmer 15 minutes with cover ajar (almost all the way closed but not completely).
Add noodles.

Try to nest them in the liquid so they are covered.

Cook, covered with a lid, 10-12 minutes or until noodles are al dente.

After about 5 minutes, check on the noodles and give them a stir.
Fold in the yoghurt and crème fraîche.

Heat quickly but do not boil.

Adjust seasoning as needed.

I add some dried red pepper flakes, and herb de Provence.

Serve immediately topped with freshly chopped parsley and fleur de sel.
Random Notes:
I have used 100% Greek yoghurt instead of a half yoghurt-half crème fraiche and this also works perfectly.

My yoghurt is rich and creamy – I don't know if it works for all Greek yogurts – let me know if you try.

If you are so inclined and not looking for a 100% vegetarian option, it is incredibly delicious to add cubed duck foie gras to each bowl before plating.

Only 10g per person is enough to add a depth of flavor, creaminess and richness.

I have never added flour to my stroganoff and it comes out creamy but I watch it closely to get a good consistency.

Adding flour might be faster and more sure.
As with all of my recipes, it is your job to get to the finish line by tasting and adjusting everything until the recipe sings!