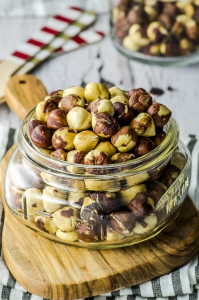 These are fast and easy to pull together for your next dinner party or for everyday snacking. They also work very well on a cheese and charcuterie platter. I usually make a large quantity of the spice blend – that way I always have it on hand and can use the quantity desired. Feel free to experiment with creating your own spice blend! When it comes to taking this to the next level, try to get a fresh harvest of hazelnuts. You won't believe how good they can be!
Ingredients – for 2 cups
2 cups hazelnuts (or pecans or almonds or any combination)
About 1-2 tablespoon butter, to taste
Spice mix
½ teaspoon sugar
1 teaspoon salt (or fleur de sel)
1/8 teaspoon cinnamon, ground
¼ teaspoon cumin, ground
¼ teaspoon coriander, ground
1/8 teaspoon garlic powder
¼ teaspoon oregano (or herbes de Provence are also good!)
¼ teaspoon Piment d'Espelette (or Cayenne pepper)
Pre-heat oven to 350°F / 180°C. Place nuts on baking sheet in single layer.

Prepare spice mix.

Taste, adjust, and set aside.

I honestly don't measure my spices when I prepare it myself – I just add the base ingredients in approximately these proportions, and adjust by adding more spice or salt or sugar until I like it!
Roast nuts. After 5 minutes, rotate pan.

Roast another 4-6 minutes or until lightly browned. Keep in mind that the nuts continue to cook slightly after you remove from the oven.

Transfer to bowl after mostly cooled.

If roasting a mix of different nuts, it's better to roast each nut variety on separate baking sheets because they can take different times to roast.

For example, pecans take much less time than hazelnuts.

If your hazelnuts have skins on them, then remove them after they've cooled slightly out of the oven – either by rubbing between your hands or putting in a clean kitchen towel and rubbing together.

I don't worry much about getting every last skin off because it does add taste!
Warm the butter only until it is melted and not more.

If you are adverse to butter, than a high quality extra virgin olive oil is good too (and no need to warm it!).

Season the nuts:

Pour the warm butter (or room temperature olive oil) over the nuts until nicely coated.

Avoid putting too much on – the goal is to give a slight flavor and to "glue" the spices!

We don't want them to be oily.

Sprinkle enough spice and stir.

Taste & adjust butter/spices as needed.
Storage. Store spiced nuts in an airtight container, on the shelf. Holds well for several days. Lightly rewarm in single layer before serving (100°C) if desired.