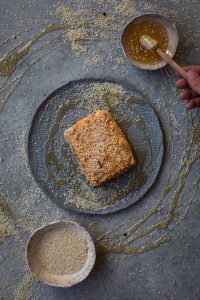 If you are in the club of those who love feta (I am!), then you will surely appreciate this dish. All you need to do is to bread a block of feta cheese with sesame and poppy seeds, and then pan fry it. The result is a crispy, crunchy outer layer with a warm, soft inner layer of cheesy goodness. Drizzling the finished fried feta with a balsamic vinegar reduction is optional but very good. If you have a sweet tooth, you might also like a drizzle of honey. This is the perfect muse for smearing on toast, in a lettuce cup, on a cracker, or wherever your creativity takes you. Enjoy!
Ingredients for 2-4 people as an appetizer
Dry Toppings
20g (2T) white sesame seeds, non-toasted
10g (1T) black sesame seeds
10g (1T) poppy seeds
15g (2T) panko or other bread crumbs
Optional drizzle toppings: balsamic vinegar reduction and honey
1 block (about 100g or 8 oz) of feta cheese
2 tablespoons olive oil
Flour, a couple of spoonfuls
1 egg
Preparation
Prepare dry topping:

Mix all ingredients together and place in a flat container/try that is big enough to hold the feta block.

Prepare bread, crackers or other accoutrements.

Place in a basket or think about potentially placing around the fried feta block after it is cooked.

Feta:

dry all sides with a paper towel just before using.

Bread the feta:

Place flour in 1 pan/tray container which is big enough to lay the feta cheese flat.

Crack an egg in another similarly sized pan/tray.

Blend it with a fork or spoon until it is no longer separated, but you don't need to whisk it.

Line up your 3 trays: flour, egg, and dry topping.

Place a plate or other recipient next to the dry topping tray – this is for the breaded feta before it is cooked.

Dip the dried feta into the flour and coat all sides;

remove excess.
Place flour-coated feta into the egg and coat all sides.
Place egg-coated feta into tray with toppings and coat all sides.

Transfer to dry plate or other recipient.

Immediately pan fry the feta:

Heat pan on medium-high; add some olive oil for shallow frying.
Place feta in pan.

Cook until browned and crusty.

Check and control the temperature.

Turn down if too hot to avoid burning.

Cook on all 6 sides.

It gets a little tricky to get the feta block to fully cooperate, so do the best you can!

The most important is to get the 2 largest flat sides crisped up.
Optional:

Transfer pan to pre-heated 200°C oven for about 3-5 minutes.

This may be necessary if you've had difficulty getting all 6 sides crisped up, which means the cheese might not be softened enough in the middle.

It takes a little trial and error here.
Transfer fried cheese block to platter.

Drizzle feta block with reduced balsamic vinegar;

drizzle with honey (optional).

If you don't have a balsamic vinegar reduction, you can skip this step.

Freshly grind some pepper on top or sprinkle with piment d'Espelette.

Serve immediately.

Make sure you say "opa" when you bring it to the table!