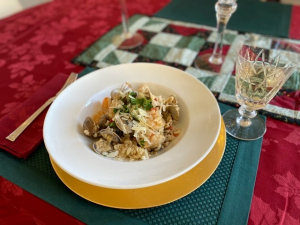 To prepare a fine risotto with sea food, you must begin by making a good fish stock. You can prepare this ahead of time and use fresh fish, clams, mussels, shrimp or any other seafood or shellfish.
Serves 6-8
Ingredients for Fish Stock
2 lbs. fish trimmings, preferably cod, bass, or halibut, or even shrimp, clam or mussel shells
10 cups cold water
1 large onion, chopped
3 carrots, chopped
10 fennel seeds
1 bay leaf
5 peppercorns
3 tablespoons parsley, chopped
2 cups white wine
Directions for Fish Stock
Cover the fish trimmings in a large pot with the cold water. Bring to a boil and skim off any foam. Turn off the heat, let rest, and skim again. Measure 5 ½ cups of stock into a second pan and add the rest of the ingredients. Cook at a low simmer for 30 minutes. Taste stock for flavor.
Ingredients for Seafood Risotto
2 lbs. prawns
2 lbs. calamari
3 lbs. clams, well-scrubbed
1/4 cup olive oil
1/4 cup butter
1 onion, finely minced
2 cups Arborio rice
3/4 cup of white wine
1/2 peperoncino (dried red chile), seeded and finely chopped
2 cloves garlic, minced
4 tablespoons parsley, minced
1/4 cup water (from cooked clams)
2/3 lb. of fresh tomatoes, finely chopped
2 fresh lemons, cut into wedges
Plenty of salt and pepper to taste
Directions for Risotto:
While the fish stock is cooking, peel and devein the prawns. Clean the calamari. Cut both prawns and calamari into thin strips. Cover and set aside. Cook the cleaned clams in 2-inches of water until they open. Do not overcook. Remove the clams, cool, and shuck them. Strain the clam water through a cheesecloth until it is clear. Set aside.
For the risotto, heat the oil and butter in a large saucepan. Add the minced onion and sauté over medium heat until translucent, about 4 to 5 minutes. Add the rice and cook long enough to coat the grains of rice, 1 to 2 minutes. Stir in 1/2 cup of white wine and cook until it evaporates. Begin adding the boiling stock 1/3 cup at a time and cook, stirring constantly, over medium heat. Risotto needs up to twenty minutes to cook to al dente.
After about twelve minutes of cooking the risotto, in a separate pan sauté the peperoncino, garlic, and half the parsley very briefly over medium-low heat. Add the remaining 1/4 cup wine and cook briefly. Stir in the calamari, prawns, and 1/4 cup reserved clam water; cook until prawns are pink, and calamari is tender. About 5 to 8 minutes before the risotto is done, stir in the tomatoes, remaining parsley, the clams, and the seafood. Finish the last addition of stock. Season to taste with salt and pepper. Serve immediately before a fawning audience. [Adapted from Carol Field, Celebrating Italy]