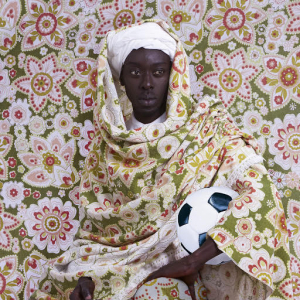 Beverly Held, Ph.D. aka 'Dr. B.'
UPDATE: Since writing this, we are on lock down again and art galleries (but not hair salons) are closed, at least for a month. And everybody who could leave Paris, has, again.
I saw a wonderful exhibition on Friday. At a gallery down the street from my apartment, MAGNIN-A, which describes itself as having "an aesthetic and political project, engaged in the promotion of African Contemporary artists." The show I saw was entitled 'HERITAGE Carte Blanche to Omar Victor Diop'. The photographer Omar Victor Diop curated the show and selected the work of six African photographers to juxtapose with his own. Diop was born in Dakar in 1980, graduated from the very prestigious Ecole Superieure de Commerce de Paris, won a photography award in 2011 (the announcement for which he initially thought was a prank email from a friend) and the next year, at the age of 32, quit his secure, well remunerated job in finance and became a full time photographer. If you look at his website, which I urge you to do, you will see that his Fine Art work is divided into series. One is called the Diaspora for which he photographed himself as famous African historical figures, basing his photographs on historical paintings. In another series, called Liberty, Diop references 20th century fighters for racial justice. In another series, a lighter series, called The Studio of Vanities Diop celebrates "the fresh faces of (Africa's) urban culture…." Beautiful photographs. Important ideas.
Click here to keep reading. https://www.museemusings.com/home/patterned-perfection You will be taken to my website, where you will find all of my articles that originally appeared in the Paris Insider. My articles will always appear here first, on Tuesdays and at www.museemusings.com where you can also learn more about me, 'Dr. B.'