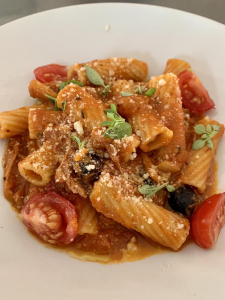 Bolognese sauce is often made with a combination of beef, veal or pork (all ground). It's slow cooking method deepens flavors and results in a ragù which only gets better the next day! As for the pasta, spaghetti is always good, but so are wide noodle such as papperadelle or tubes. 75g-100g of dried pasta per person is sufficient, depending on appetite sizes. This is one of several ways that I make a pasta ragù – it is the simplest and easiest method. I don't typically measure out ingredients and I very much adjust to taste, so use these are guidelines only!

Ingredients – for 8 people
Main Ingredients
Olive oil, 1 tablespoon or as needed
2-3 tablespoons butter
1 large onion, roughly chopped
1 rib of celery, roughly chopped
1 large carrot, roughly chopped
½ large fennel bulb, roughly chopped (optional but good)
450g chopped meat (beef, veal, pork)
125g pancetta (smoky bacon – or lardons fume) – chopped. Use more or less depending on if you like a smoky flavor.
225g or 225 ml robust red wine
4 cloves of garlic, or quantity desired
115g or about 115ml of veal or beef stock
1 x 800g + 1 x 400g can of diced tomatoes or garden tomatoes
3 tablespoons tomato paste
Dried Herbs: 1 tablespoon each of marjoram & oregano, 1 bay leaf
Fresh Herbs: ½ of a cup of freshly chopped flat leaf parsley, basil
salt, pepper
Other Ingredients – Top pasta before serving
Freshly grated parmesan cheese, freshly chopped basil, fleur de sel, and piment d'Espelette.
Preparation
Prepare the vegetables & other ingredients.

Add onions to food processor only until just chopped (and not turned into a purée).

Remove and then repeat with the celery, except chop finely.

Remove and repeat for the carrot (finely chopped).

Remove and repeat with the fennel (finely chopped).

.

Peel garlic cloves.

Clean parsley and store in fridge until needed.

Chop the pancetta.

Start cooking vegetables and meat.

Heat olive oil in a Dutch oven or large casserole.

Add olive oil and butter.

When butter is frothy, add the vegetables and cook until "sweated" (ie; they are soft and translucent).

Add the pancetta and cook until browned.

Degrease if necessary.

Add the chopped meat, whatever combination you like (I like a combination of all).

Add the dried herbs. Cook about 30 minutes until the meat is brown and crumbly. Press the garlic into the pan.
Add the wine.

Cook until the wine has evaporated.
Add the veal or beef stock.

Let simmer down nicely.
Add the tomatoes.

Break up the tomatoes if needed (or in the summer I just squeeze garden tomatoes through my fingers, directly into the pan when they are so ripe they almost fall apart in my hands!).

Add bay leaf.
Add tomato paste.

Stir well.

Simmer 1-3 hours on very low heat; add more stock if it needs it.

Add more tomato sauce if it needs it.

Throw in some black olives if you like.
Adjust seasonings.

I often add more garlic, dried oregano, some red chilis if it needs some "pep", lemon juice for brightness, herbes de Provence, salt, freshly ground pepper, etc.
To Serve
Cook pasta to al dente.

Drain, keeping some of the pasta water on the side in case needed to thin the pasta sauce later on.

Put the drained pasta back into the pan that it was cooked in.
Add enough of the sauce to coat the pasta very well.

Stir gently and finish cooking the pasta with the sauce.

Let it mingle nicely together!
Either plate individually or put into a large pasta serving bowl for the table.

Ladle lots of additional, rich sauce on top.

Generously garnish with parmesan, chopped basil.

During the summer, I like to also garnish with cherry tomatoes.
Serve with garlic bread.
Enjoy!