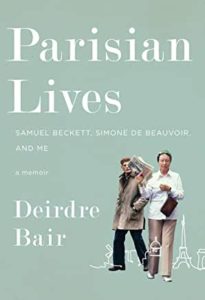 We all love biography.And much of the time we ask "How in the world did She or He do it? When the subject is historic, that is long dead, to capture his or her life and soul, we imagine years in libraries mulling over books, manuscripts and letters, or relying on a hefty staff of research helpers, perhaps contacting a few survivors or descendants. Deirdre Bair's subjects were very much alive, and the technique quite different as it was between the subjects: Beckett retiring and elusive, Beauvoir domineering and unpredictable. In " Parisian Lives," Bair not only explains " how she did it", but delivers a lesson in the art of biography. She however admits that her " book about the writing of the books", a "hybrid of memoir and biography" may reveal as much about her as her subjects. She describes the difficulties of working in foreign archives and languages, her constant fight to to raise money for research and travel, her awe and apprehension at finding herself face-to-face with two literary giants. Bair devoted 7 years to research and conversations on two continents. During her long hours with Beckett, generally in Montparnasse cafés, he insisted he would " neither help nor hinder her work", but did cooperate. You feel her intensity, commitment, even passion and mountains of perseverance, always scrupulously consulting multiple sources to verify a fact. During her conversations with Beauvoir, she describes her first serious involvement with feminism. Bair pulls no punches, digging and delving, unearthing even the most intimate details to complete the portraits: Beckett's tormented youth, his overwhelming anxieties, struggle with alcohol and depression and both his and Beauvoir's sexuality. A scholar and academic, Bair reveals her prodigious literary knowledge of the work of her two subjects as well as that of their sources and influences, providing clues, for instance, on how Beckett's writing evolved and matured. Asked why she chose the two she confesses that her interest in Beckett and Beauvoir was out of proportion to the rest. She chose them simply because "They were remarkable people". Beauvoir died before her biography was published. Otherwise she might have found that Bair had come to know him better than she knew herself. The same might have been true for Beckett.
Deidre Bair received the National Book Award for "Samuel Beckett" (1978) , her first biography. " Simone de Beauvoir" was a New York Times Book of the Year (1991)
I read "Lives" with particular interest, pleasure and nostalgia since Beckett and Beauvoir's 1950s were also mine. I knew many of the people in Beckett's circle and that of his mentor James Joyce. Some I knew superficially, some were or became friends, others like Beauvoir, Sartre and Beckett, I knew only at a distance, or because I shared their aura and lived just around the corner near Saint-Germain-des-Près;
Obviously, I HAD to buy the biographies. "Samuel Beckett" has me palpitating . Beauvoir is waiting on a shelf next to the "Second Sex".
Of her six biographies, Bair's latest but hopefully not the last is devoted to Al Capone: Life, Legacy, and Legend" (2016). After Capone, revealing the fascinating life of Terrance Gelenter should be child's play, especially since both subject and author were exotically born in Monongahela, PA.