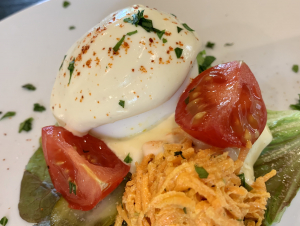 Oeuf Mayonnaise, is a classic (perhaps even vintage) entrée "familiale", that doesn't seem to get the full respect it deserves. However, the ASOM (Association de Sauvegarde de l'Oeuf Mayonnaise) aims to bring the spot light to this simple peasant food and to preserve its authenticity! Annual contests in Paris determine which restaurants serve the best "œuf mayo". The last one occurred in 2019 and included participants Guillaume Gomez (from the Palais de l'Elysées), Antoine Westermann, Julien Duboué and judge Yannick Alleno.
Like many things in the French food world, there are standards to be upheld. A good oeuf mayonnaise is not as simple as it sounds. Here are the important qualities we look for: (1) egg quality and caliber (fresh, organic, large), (2) Cooking technique (not overcooked; yolk should be still a little tender, (3) Mayonnaise (home-made, perfect texture with pronounced mustard taste and nice acidity from vinegar, (4) seasonal garniture to offset the richness, (5) perfect seasoning (important for everything in the kitchen!). I personally like to drape my egg with a mayonnaise coating that is thick enough to hold, yet loose enough to trickle down the side. I also like to put a dab of intense mayonnaise underneath to assure every bit of egg and garniture gets some sauce. Usually, three half eggs are served and sometimes the mayonnaise is piped on the egg. Use your own creativity and preferences to lead the way!
Ingredients for 6 people
6 large fresh eggs, organic preferred (but cook 8 in case of breakage)
6 salad leaves
Cherry tomatoes, diced cucumber, and grated carrot salad, or other
vegetables of choice
Oseille (sorrel) and parsley, or other fresh herbs
3 cornichon pickles
Mayonnaise
2 egg yolks
About 1 cup (300g) of neutral oil (sunflower for example)
1 tablespoon intense Dijon style mustard, and more to taste
Dry mustard to taste
1 tablespoon Apple cider vinegar, to taste
Salt, pepper, piment d'Espelette or Cayenne pepper, to taste
+ buttermilk or Greek yoghurt to thin slightly for the sauce
Steps
Eggs:

Bring eggs to room temperature.

Prepare cold water bath.
Bring pot of water to a boil, then lower to a simmer.

Rinse eggs under hot tap water before placing in simmering water.

If needed, bring water back to a simmer. Cook in simmering water for 10 minutes (plus/minus a minute depending on egg size).
Immediately transfer to cold ice water.

Change water if it becomes warm.

The eggs need to be cooled immediately and not left to linger in warm water, or you risk the black circle around the yolk which happens if overcooked.

After completely cooled, remove shell, rinse under cold water and dry with a paper towel.

Reserve in fridge until needed.

Mayonnaise:

Place yolks in bowl with mustard.

Whisk together.
Gradually add the oil in a thin drizzle.

It will thicken as you continue to add.

Stop when it is really thick and sturdy, even if you don't use all of the oil in the recipe.
Add seasonings (salt, pepper, Cayenne) and vinegar.

Blend.
Taste and adjust.

Add more dry mustard if not pronounced enough. Add more vinegar or lemon juice if too fatty tasting in the mouth.

Add more salt and pepper to enhance the flavor if a little dull.
Set aside a small amount to use underneath the egg.

Use the rest for the sauce which will top the egg (next step).

Mayonnaise sauce:

Thin the mayonnaise with a table spoonful of Greek yoghurt (or a teaspoon of buttermilk).

Stir and check consistency and flavor.

Thin/adjust to your liking.

(NOTE:

this step is optional.

It is what I do, but you could also use the mayonnaise in Step 2 above as is!!)
Garniture:

Prep 6 salad leaves, thinly slice the cornichons (1 per person), cut the tomatoes in quarters or halves, grate the carrots, dice a little bit of cucumber.
These are simply recommendations for the garniture.

Feel free to try different vegetables you may have on hand or prefer.

What is important is that you bring some freshness and acidity to the egg and mayonnaise.

To Serve:

Place lettuce on plate, then add sliced pickle, grated carrot and chopped cucumber.

Add a dollop of the thick mayonnaise.

Set the egg on this and season egg well with salt & pepper. Top egg with slightly thinned mayonnaise, using a spoon.

Sprinkle with piment d'Espelette and freshly chopped herbs. Serve immediately.
Do-Ahead Notes: Cook eggs 2 days before, leave in shell. Peel day of using. Make mayonnaise and thinned sauce the day before. Prep all vegetables the day before. Assemble just before using.