Review by Beverly HELD Ph.D
I have been receiving a raft of emails offering 'virtual museum tours', you probably have too. If, like me, you are in quarantine (although perhaps not quite as draconian as here in Paris) and with decent internet access, you can virtually visit any museum in the world and listen to curators and scholars lecture on the collections. If you want help navigating your way through all these opportunities, the New York Times offers the following guide:
https://www.nytimes.com/2020/04/23/arts/design/best-virtual-museum-guides.html?action=click&module=Features&pgtype=Homepage
If you prefer a meal instead of a snack, why not take an online course through a MOOC (Massive Open Online Course). Although several options exist, I always look first at coursera.org. Click onto 'art history' for mouth watering offerings from major universities (Penn, Wesleyan, Brown, etc.) and first rate museums, (MoMA, New York) on subjects ranging from pharaohs to photographs. Choose your level of commitment - from listening to the lectures to writing the papers (peer reviewed) - it is all up to you. Whatever level you choose to participate on, the experience will be a rewarding one.
What I do here each Tuesday, while we wait for the world in general and Paris in particular to reopen, is tell you about a Paris museum you may not have heard about or may have heard about but not yet visited. By the time we are ready to walk out to the sunshine and into a museum, you will have a curated list of small museums to visit when you return to Paris. Expect my little reviews to be as much cultural history as art history.
Today is the Musee Cognacq-Jay's turn. (Figure 1) Have you heard of it ? Have you been there ? I first visited the Musee Cognacq-Jay some years ago when, foolishly, we hadn't bought tickets in advance to the Picasso museum. The line was just too long, so we left. Looking for something to do in the area, we opted for the Cognacq-Jay. Whimsy and Plan Bs are good, buying a ticket in advance is better. Now I never go to a museum, especially one with a temporary exhibition, without booking in advance. I urge you to do the same. Even if the only other thing you would be doing is having another cafe creme, isn't that what you are supposed to be doing in Paris rather than waiting in line to get into a museum ! Okay, rant over.
Figure 1. Musee Cognacq-Jay, Hotel Donon, Paris
Like Nellie Jacquemart and Edouard Andre, Theodore-Ernest Cognacq (called Ernest) and Marie-Louise Jay were wealthy art collectors. (Figures 2 & 3) Like Moise de Camondo, Mr et Mme Cognacq collected mostly eighteenth century French art. But gosh, the differences ! Most significantly, both Edouard Andre and Moise de Camondo were born wealthy and grew their wealth with successful banking careers while Ernest Cognacq and Marie Louise Jay's roots were modest. Daughter of a mason and one of 8 children, Marie-Louise was sent to Paris at 16 to live with an aunt and find work, which she did, as a sales clerk, one of the very few respectable jobs available to a young woman. She flourished and when she went to work at Le Bon Marche it was as their first female salesperson in the clothing department. When Ernest Cognacq was 12, his father, a goldsmith, went bankrupt and died. Ernest left school and became a traveling salesman in SW France. He left for Paris where he encountered a variety of successes and failures. One of his adventures was selling fabrics from a counter made of crates under an arch of the Pont Neuf, the former location of the Samaritaine hydraulic pump. (Figure 4)
Figure 2. Ernest Cognacq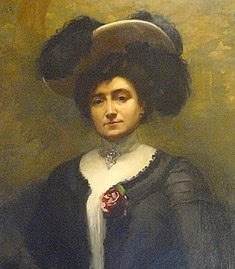 Figure 3 Marie-Louise Jay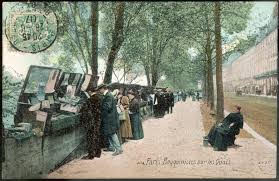 Figure 4. Bouquinists along the Seine, where Ernest Cognacq set up shop
In 1869, at the age of 30, Ernest Cognacq opened a shop in a rented space and hired Marie-Louise Jaÿ as his sales assistant. They married, combined their fortunes, (his 5,000 francs, her 20,000 francs) and bought the shop they were renting. In honor of that old pump, they named the store La Samaritaine. (Figure 5) Marie-Louise was innovative, Ernest was a good businessman. They incorporated practices Marie-Louise had learned at Bon Marche and introduced ideas which today we take for granted, like clearly marked fixed prices and letting customers try on clothes before buying them. They went on to offer catalog sales and consumer loans. Their store flourished. In 1905, they had a second La Samaritaine built. By 1910, the couple had four large stores. By 1927, they had 8,000 employees.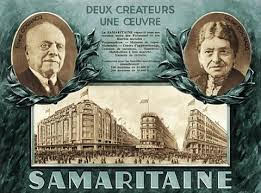 Figure 5. Ernest Cognacq & Marie-Louise Jay and Samaritaine, their department store
What about the museum I hear you impatiently asking. Just a minute, I want to talk about philanthropy. For many benefactors, their bequests are their philanthropy. But when I think of American philanthropists like Andrew Carnegie and Henry Frick, I can't help but think about strike busting and Pinkerton guards. Could these men have paid their employees a living wage and still had enough money to purchase the art that I so appreciate? And what about Andre and de Comando, both bankers. Did they give hard workers like Ernest Cognacq loans at reasonable rates ? Or were the loans they approved like those of Reginaldo Scrovegni whose son Enrico commissioned the artist Giotto in 1305 to fresco the Arena Chapel in Padua as public expiation for his father's sin of usury ? I am grateful for all the beautiful paintings I see every time I go to a museum, but I try not to forget that many of those collections were built on the backs of men who worked long hours at dangerous jobs for too little pay.
And I bring this up because Ernest Cognacq and Marie-Louise Jay were different. From the moment they began making money, they began giving it away. Perhaps because they had been employees themselves, they had different ideas about how their employees should be treated, should be compensated. Beginning in 1914, employees received shares in the company and profits were redistributed to them. During World War I, the couple created the Fondation Cognacq-Jaÿ for the benefit of their employees - from cradle to grave - a nursery, an orphanage, a school, a maternity clinic, a convalescent home, a nursing home. They were able to do good while doing well and still enjoy their wealth. From 1900 until 1925, they assembled an important collection of 18th century painting, sculpture, furniture and decorative arts which they exhibited next door to their store La Samaritaine de luxe, on Boulevard de Capucine. It opened in 1917 and in 1928 was bequeathed to the City of Paris as the Musee Cognacq-Jay (Figure 6)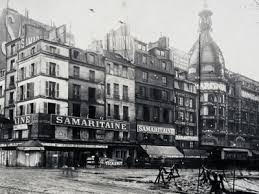 Figure 6. Musee Cognacq-Jay original location on Blvd de Capucine, next to Samaritaine de Luxe
The museum displayed the Cognacq-Jay collection in rooms intended to replicate the style of an eighteenth-century townhouse, to complement the works and preserve a sense of intimacy. When La Samaritaine de Luxe closed and the building was sold, the City of Paris found a new home for the Cognacq-Jay collection, the Hotel Donon, (Figure 7) a 16th century residence located on a little side street in the heart of the Marais, not far from the Musee Carnavalet.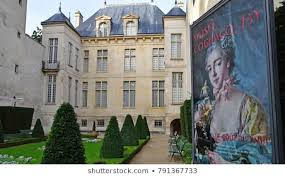 Figure 7. Musee Cognacq-Jay, new location, Hotel Donon, rue Elzevir, Maris
The first time I visited the Cognacq-Jay, I enjoyed the permanent collection of a lovely little museum that was off the beaten track. (Figures 8 & 9) And I would have returned from time to time to appreciate the collection and its setting, as I do with the the Musee Nissim de Camondo. But in fact, I return to the museum often because it offers temporary exhibitions several times each year. The temporary exhibitions I have seen here have been beautiful and beautifully presented. One recent exhibition was a wonderful celebration of 18th century Venetian festivals from Carnival to Commedia Delle'Arte (Figure 10) through paintings and costumes. (Figure 11) Another, was La Fabrique du luxe : les marchands merciers parisiens au XVIIIe siècle, (Figure 12) about the boutiques which controlled the luxury trade before the French Revolution. As explained in the excellent wall text and exhibition catalog, these merchants were importers, collectors, designers, decorators and arbiters of taste. And, they were one of the first trades to promote themselves through advertising ! When I got to the top floor of this incredibly rich exhibition, my senses already overwhelmed, I couldn't believe what I saw: a life size recreation of L'Enseigne de Gersaint, the shop sign that the artist Watteau painted for the Marchand Mercier, Edme Gersaint.(Figures 13 & 14) I never wanted to leave!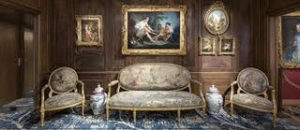 Figure 8. Musee Cognacq-Jay, Hotel Donon, Interior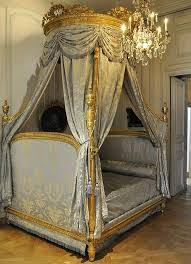 Figure 9. Musee Cognacq-Jay, Hotel Donon, Interior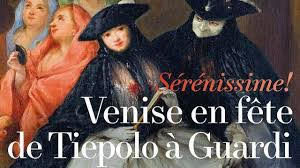 Figure 10. Poster for Venice Festivals exhibition, Musee Cognacq-Jay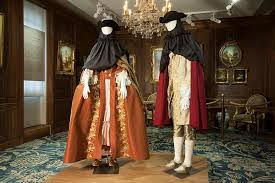 Figure 11. Costumes for Venice Festivals exhibition, Musee Cognacq-Jay

Figure 12. Poster for La Fabrique du Luxe exhibition at Musee Cognacq-Jay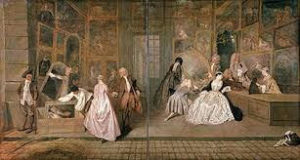 Figure 13. Antoine Watteau. L'enseigne de Gersaint,1720, sign advertising Gersaint's mercier shop,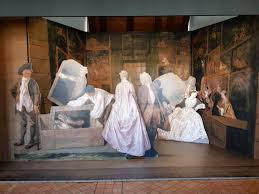 Figure 14. Full size replica of Watteau's painting for exhibition at Musee Cognacq-Jay
There is so much to love about this museum, its permanent collection, its temporary exhibitions, its location, its backstory. You must go once this trauma is behind us or just as much a part of us as emptying our pockets and having our bags checked when we walk into a museum.